Wednesday 23rd June In Memoriam " Blue " Gene Tyranny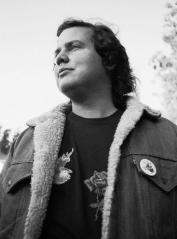 Thema 23rd June 20.00.
Making music for the American pianist and composer 'Blue' Gene Tyranny (1945-2020) was  a lot of fun. You could call his style eclectic. It is above all full of life and vitality, influences from jazz, blues, avant-garde, experimental electronics and pop music coming together. 'Blue' Gene Tyranny (real name Robert Sheff) is a highly competent and rapid pianist. According to music critic Kyle Gann Tyranny had 'the energy of pianist Cecil Taylor and the sensitive ears of Morton Feldman'. Tyranny achieved fame through his participation in projects by fellow composers such as Robert Ashley (the opera 'Perfect Lives'), Laurie Anderson (the album 'Strange Angels') and Peter Gordon. He also toured with the Carla Bley band and was briefly a member of Iggy Pop & The Stooges. His own compositions are somewhat neglected but have just been rediscovered. A substantial cd-box was released this month with many archive recordings by 'Blue' Gene Tyranny, specially selected by the composer himself. In honour of the memory of 'Blue' Gene Tyranny, who passed away at the end of last year, Thema is broadcasting an overview of his work on Wednesday 23rd June (20.00-22.00 ) . As well as many piano- and ensemble compositions you can also hear part of his music theatre story The Driver's Son.
Listen here.