What does a landscape sound like? On the road with Stijn Demeulenare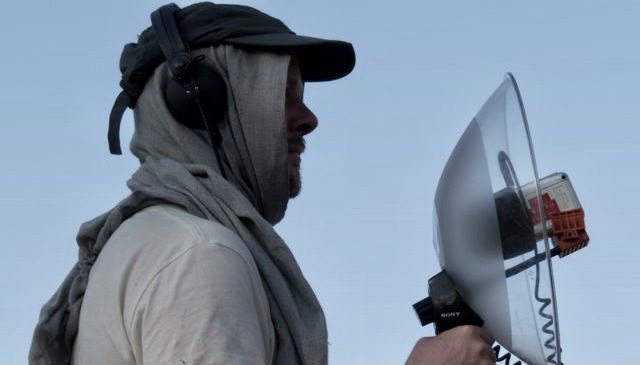 Wednesday September 8th between 8:00 pm and 10:00 pm, don't go anywhere. We've done that already, for you. Dive into our deep soundscapes by Stijn Demeulenaere from Brussels. For more than a decade, he has been making sound installations. With these soundscapes – as they are called nowadays – he allows the listener to experience with their ears what an environment, a landscape actually sounds like.
Demeulenaere's fascination for sound started during his sociology studies and at his job as a radio reporter. Pure sound, just listening to sound itself makes room for immersion and interpretation. Within that sound Demeulenaere creates artistic shapes to allow new experiences for the listener and to confront them with their own identity and history. He wants us to feel who we are and where we are by listening around us. How an ambience resonates in us and vice versa.
For his sound sculptures Demeulenaere uses many field recordings as they call it in the music world. They are not to be confused with nature recordings, because sound from both cities and houses play a big part in Demeulenaere's works. It's all about space as a source and as a place where sound is experienced. Ultimately, a soundscape itself becomes an ambient sound. Demeulenaere examines how sound gives space meaning and vice versa.
September 8th will be a night with ambient sound and what ambient sounds do to us personally. What does it recall for you? What memory flashes by? What does the sound tell you about yourself? A different experience, that's the bottom line of this programme's theme. Frogs, underwater nibbeling beings, a house full of chambers, a personal poem, porcelain, the ZuidFoor Fair and all of a sudden…your own living room, your own street or backyard.
The theme Stijn Demeulenaere will be broadcasted live from our studio in Utrecht and can be listened to from any location of your choice on September 8th starting at 8:00 pm.
For more information on Stijn Demeulenaere, please visit his website: http://www.stijndemeulenaere.be