World music night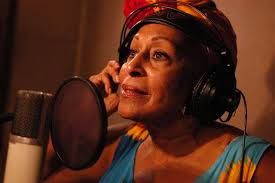 On Saturday night, 2 November 2013, from 00:00 to 07:00, part 1 of our ladies night live. Over the years, we have recorded many performances by women artists from around the world. Tonight, you can listen to Omara Portuondo in a performance with the 67 year-old Eliades Ochoa and the Orquestra Buena Vista Social Club.
World Sessions
From our World Sessions series, performances by Amira Kheir (Sudan), Aline Frazăo (Angola) and Marta Gómez (Colombia).
Malika El Abdellaoui is an impressive singer whose voice has been compared to that of the legendary Syrian singer Asmahan. Her repertoire consists mainly of the classical Arab songs made famous by Umm Kalthoum.
Our programme guide contains more information about the artists.