500th Episode of Bach ad Infinitum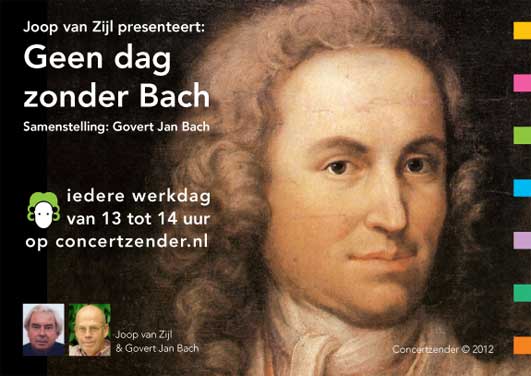 On Friday 3rd November at 13.00 it will be the 500th episode of our daily programme  Bach ad Infinitum. During this we say goodbye to presenter Joop van Zijl.
The 500th episode is a special milestone in many ways: the programme began on 5th November 2017 exactly 5 years ago, it is the 100th 'Bachweek', and it's the 500th episode and at the same time the last with presenter Joop van Zijl.
The 500th is a special and celebratory episode in which the favourite Bach works of all  Bach colleagues are heard. Compiler Govert Jan Bach, Concertzender-director Sem de Jongh (who invented the programme ), presenter Joop van Zijl, coördinator Early Music Irene Stolp and the two technicians explain their favourite Bach music, which we play ( in short).
Broadcasts:
Friday 3rd November 2017, 13.00 – 14.00
Friday 10th November 2017, 13.00 – 14.00
After the first broadcast can be heard on demand via the site and the Concertzender's app .
From Monday 13th November Bach ad Infinitum will continue, but in another format. Govert Jan will present Bach, but with more text on Monday and less on other work days.
So still Bach ad Infinitum on the Concertzender!