An Intimate St John Passion
On 28th and 29th April Bach ad Infinitum is about the St John Passion, and we're broadcasting a live recording made recently in Utrecht.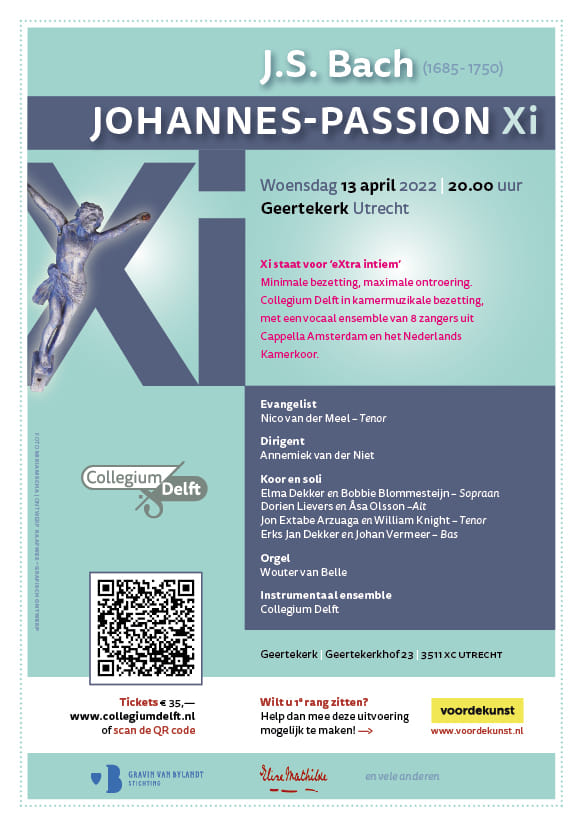 On 13th April 2022 in Utrecht JS Bach's St John Passion Xi (Xi means extra intimate ) was performed by Collegium Delft led by Annemiek van der Niet (see photo).
It's a minimalist lineup of 2 singers per voice in the choir, who also sing the solo arias. The Evangelist is Nico van der Meel, the most famous Dutch tenor in this repertoire.
The Concertzender recorded this performance. Although the Passion period is over we thought it a shame to let it sit on the shelf for a year so the makers of Bach ad Infinitum decided to extend the Passion period for 2 weeks.
Listen via this link to episode 37 of our podcast 'Bach & Co', with interviews with conductor Annemiek van der Niet and cellist Lotte Beukman.
Broadcasts:
Part 1: Thursday 28th April 2022, 13.00 – 14.00 CET
Part 2: Friday 28th April 2022, 13.00 – 14.00 CET
Repeat Part 1: Thursday 5th May 2022, 13.00 – 14.00 CET
Repeat Part 2: Friday 6th May 2022, 13.00 – 14.00 CET