Art Blakey and Les Jazz-Messengers at Club Saint-Germain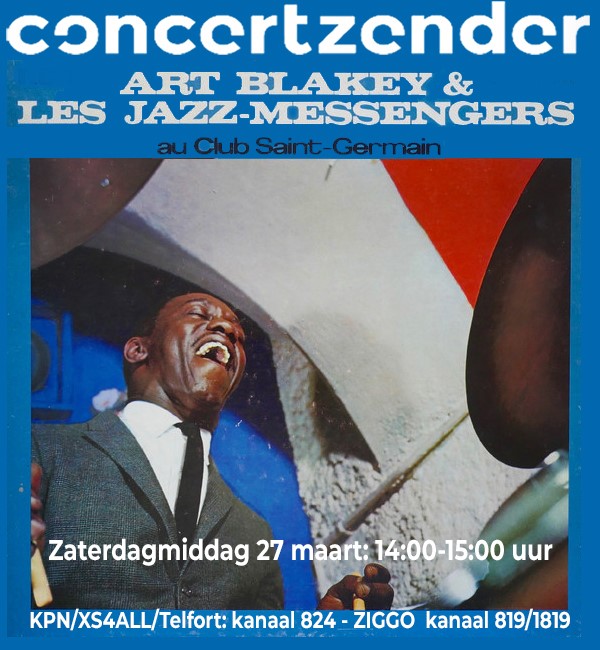 za 27 March – 14:00 Concertzender Live
It's 21st December 1958. Come into the Club Saint-Germain in Paris and enjoy the latest American hardbop.
Copenhagen had its Jazzhus Montmartre, for Parisians Club Saint-Germain was le temple du jazz. The  services in the temple were attended by jazz hungry worshippers. Just as elsewhere in Europe, the highlights were the American concerts, and the Americans loved coming to Europe ! A long line of top jazz players featured on the Parisian podia. Pianist Bud Powell and drummer Kenny Clarke stayed for a long time in Paris and together with bassist Pierre Michelot formed 'The Three Bosses'. Together with tenor sax player Dexter Gordon – then living in Copenhagen – in 1963 they made the record Our Man in Paris.
Parisians must surely have loved Blakey's Jazz Messengers in the famous line up with Lee Morgan (trumpet), Benny Golson (tenor), Bobby Timmons (piano) and Jymie Merritt (bass). They played the Blues March, Moanin'. Connoisseurs appreciated the collaboration between the tenor and the trumpet in the themes – perfect dynamics and articulation, like listening to one musician not two. The public's reaction – listen for the moment just after the start of Moanin' – added to the atmosphere and we can share their enthousiasm.
Concertzender Live –  a programme by Jaap van de Klomp