Café Zimmermann with Arno Bornkamp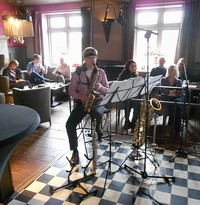 The first broadcast of 'Café Zimmermann', the new live programme from the makers of 'Bach Ad Infinitum' is on Wednesday 23 April 13.00. The world-renowned saxophonist Arno Bornkamp was our guest.

In a live performance in a relaxed café setting in Brasserie 't Lagerhuys in Muiderberg, Bornkamp played excerpts from the Bach cello suites, the partita for traverso and the second violin partita.
The presenters Govert Jan Bach and Karin van den Boogaert also talked to Arno Bornkamp about his relations with Bach's music, why he is playing this music on the saxophone and much more.
You can listen to this special performance as if you were there during the recording. 'Café Zimmermann' will be broadcast twice in the timeslot usually reserved for 'Bach Ad Infinitum' and also one more time on the Sunday moring between these broadcasts.
Broadcasts:
Wednesday 23 April 13.00-14.00
Sunday 27 April 09.00-10.00
Wednesday 30 April 13.00-14.00