Chick Corea's last live album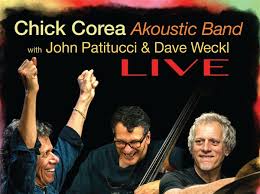 Saturday 30th July 2022, 14:00  – Concertzender Live. In January 2018 the Chick Corea Akoustic Band played in de SPC Music Hall in St. Petersburg, Florida. It was a trio-reunion with bass John Patitucci and drummer Dave Weckl. The three musical friends already had a collective musical past in different settings. In 2021 the live album from this concert was released –  a few months after Corea died. The pianist worked himself on the release.
The double cd contains recordings of two sets. In this programme you'll hear pieces from set 1. The playlist is, as so often with Corea,  a mix of standards and his own works. The 'groupiness' level of the trio is very high – the passionate players completely in tune with one another.
That finds its optimum expression in the 14 minute long Rhumba Flamenco – a complex, Andalusian inspired composition. Corea had previously shown his affinity with flamenco, as you can hear on his 1974 album My Spanish Heart. In the opposite direction flamenco guitarist Paco de Lucia had close connections with jazz musicians.
In the piece in question the flamenco influence is not only audible in the 'notes' – for example in the repeated holding of and returning to the original key – but also to the 'spirit' specific to the genre.
A tiny jewel in the piece is the short, repeated unison passage between piano and bass.
Just listen!
Corea's musical legacy, both as leader and sideman, is contained on around 200 albums.
Programme maker Jaap van de Klomp covered in May of this year another trio led by Corea. Click here for the broadcast, and here for the accompanying Newsletter.