Concertzender Live – a party afternoon with "Keith Jarrett at the Blue Note" (1994)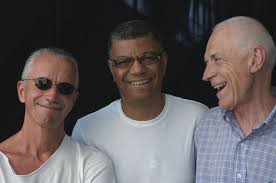 Saturday 26th December, 14:00-18:00! uur.
Jarrett's Standards Trio, with bass player Gary Peacock and drummer Jack DeJohnette, played a long weekend in june 1994 in New York's Blue Note. The ECM-box contains 6 cd's.
In 1983 ECM producer Manfred Eicher coupled pianist Keith Jarrett with bass player Gary Peacock and drummer Jack DeJohnette, to make an album with jazz standards. This idea grew into a number of very well-received albums and equally successful tours. The trio continued to record and play in the same format for 30 years (!) . Their repertoire was gradually widened to include their own compositions and improvisations.
In June 1994 the trio played a long weekend in the Blue Note jazzclub in New York. Jarrett, always on the alert for disturbing environmental influences, demanded a ban on smoking and serving food and drink. It became a gig of exceptional quality. The musicians are completely focussed and take their time. Some pieces, including Autumn Leaves, take twenty five minutes. An 'exploratory' intro can take a while before the theme appears. An experience, "like the sun suddenly breaking through fog" (bron onbekend).
A feast for lovers of the 'piano trio' format, from completely original and adventurous treatment of standards and by Keith Jarrett. Tune in!
(Jarrett, struck by brain haemorrages, never played again. In September 2020 bass player Gary Peacock died.)