De Musyck Kamer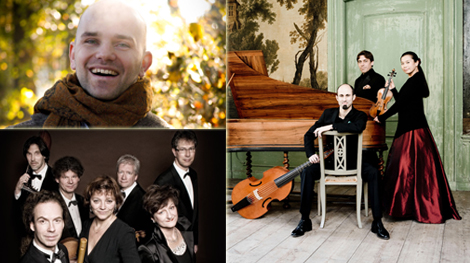 The new episode of De Musyck Kamer is broadcast on Sunday 13 March 15:00-17:00 CET. Our guests are Trio Fantasticus, countertenor Kaspar Kröner with lutist Arjen Verhage and Camerata Trajectina.
The members of Trio Fantasticus are Rie Kimura (baroque violin), Robert Smith (cello and viola da gamba) and Guillermo Brachetta (harpsichord). They play 17th century music in the stylus fantasticus style written by F.M. Veracini and P.H. Erlebach.
The German countertenor Kaspar Kröner and the lutist Arjen Verhage perform English songs for the lute by Dowland, Danyel and Campion. Kaspar Kröner recently issued his debut CD 'Kaleidoscope of Love' which features both traditional lute songs and songs from the 20th century.
And last but not least the members of the Utrecht ensemble Camerata Trajectina perform a tribute to their recently deceased artistic leader, the musicologist and lutist Louis Peter Grijp.
The recordings were made on Saturday 27 February 2016 in the Dekenkapel of the Pieterskerk in Utrecht in the presence of an enthousiastic public.
Broadcasts:
Sunday 13 March 2016, 15.00 – 17.00 CET
Monday 21 March 2016, 11.00 – 13.00 CET