Discovered : Dutch Trio sonatas from the Baroque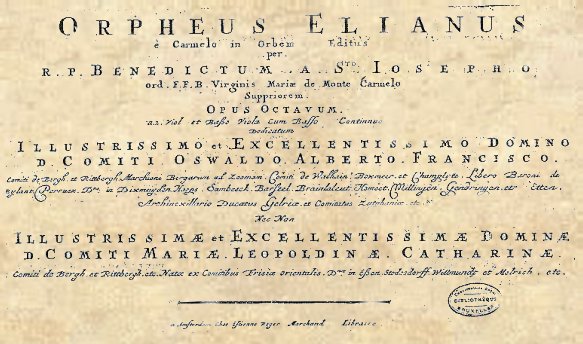 On Monday 19th January a new monthly series will start called Documento (19.00 – 20.00 ) about triosonatas from the Dutch Baroque period, found in European libraries by violinist Nico Brandon .
Dutch triosonatas are of a similar high quality to those of famous foreign composers such as Arcangelo Corelli. That used to be questioned, but wrongly so.
Nico Brandon researched within European libraries and found a lot of music from the Dutch Baroque period. He recorded all the music for radio in the 80's and 90's, unique music which is hardly ever heard any more, and on which the Concerzender is happy to focus.
Benedictus Buns
The first programme on Monday 19th January will present triosonates from Benedictus Buns (1642 – 1716). He was a monk, organist, and composer of Roman Catholic church music..
As well as many religious choral pieces Buns also composed a collection of sonatas for 2 violins, viola da gamba and basso continuo. This collection is called "Orpheus Elianus è Carmelo in orbem Editus" and was published in Amsterdam in 1698.
The Bouwmeester Consort (Nico Brandon and Mary de Ligt, violin. Ben de Ligt, cello and Marijke Smit Sibinga, harpsichord ) recorded all Buns' triosonatas during the 80's, of which you will hear a selection.
Broadcast:
Monday 19 January 2015, 19.00 – 20.00
Click here for the programme information and play list.