Eric Dolphy at the Five Spot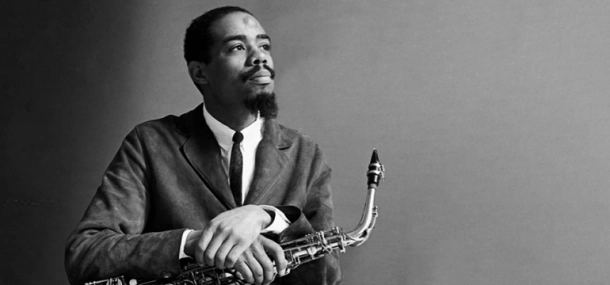 Concertzender Live – Saturday 26 November, 14:00 CET. Woodwind player Eric Dolphy was a cutting-edge musician, just like Charles Mingus, John Coltrane and Ornette Coleman. He worked with all three, on stage and in record studios. In July 1961, Dolphy, flanked by trumpeter Booker Little, spent two weeks at New York's Five Spot Café. On the evening of July 16, the famous sound engineer Rudy Van Gelder was present with his recording equipment.
The playing of altist, bass clarinetist and flautist Eric Dolphy is immediately recognisable: rapid and unexpected leaps between the high and low registers and extended notes that fly in all directions. It is striking that the starting points – composition, chords and form – are less groundbreaking. That combination of almost boundless improvisation over a clear basis creates tension.
This can be clearly heard in Bee Vamp, a composition by Booker Little, in which flowing passages with chord changes periodically alternate with passages that bring the music back down to earth by means of a sustained bass note.
Little's Aggression is an uptempo piece that offers ample space for every player during more than 17 minutes. Pianist Mal Waldron's obsessively circling solo contrasts with Dolphy's sweeping bass clarinet solo that precedes it. Then it's the turn of bassist Richard Davis and drummer Ed Blackwell.
A dynamic solo by Dolphy, followed by circular movements by the pianist, can also be found in Booker's Waltz (also a piece by Little). The similarity with Mal Waldron's Fire Waltz, the final piece of this programme, is striking. The themes differ, but the tempo and three-four time are the same, as are the lengths of the pieces, more than 14 minutes and more than 13 minutes respectively. Yes, they had time, and they took it.
This legendary quintet was short lived. Trumpeter Booker Little died three months after this performance, aged 23.
Too bad the club didn't think it necessary to have the piano tuned. But hey, that was common in those days. Couleur (musicale) locale.
Many musicians have been influenced by Eric Dolphy. Among them saxophonist John Coltrane, but also Frank Zappa. His album Weasels Ripped My Flesh (1970) contains a track titled The Eric Dolphy Memorial Barbecue.
The Five Spot Café was a hotspot for avant-garde jazz in the 1950s and 1960s. The audience consisted largely of artists, writers, musicians – Willem de Kooning, Jack Kerouac, Allen Ginsberg and the jazz baroness Nica de Koenigswarter. Leonard Bernstein, Miles Davis and John Coltrane were in the audience at the New York debut of saxophonist Ornette Coleman. Cecil Taylor, John Coltrane, Thelonious Monk and Johnny Griffin also all performed there.
The Concertzender Live broadcast on October 22, 2022 contains recordings of Thelonious Monk playing with Johnnie Griffin in the Five Spot!  Click here for that broadcast and click here for the associated news item.
Concertzender Live – Jaap van de Klomp