Harpsichord concerts by Jean-Philippe Rameau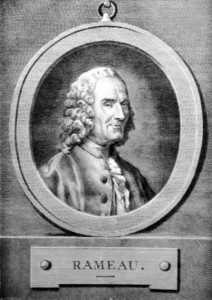 A musical portrait of Jean-Philippe Rameau in L'Esprit Baroque on Sunday 16 February (15.00 – 17.00), with particular attention for his 'Pièces de Clavecin en Concerts'.
2014 is the 250th anniversary of the death of Jean-Philippe Rameau (1683-1764). Rameau composed his 'Pièces de Clavecin en Concerts' (concerts for harpsichord, violin and gamba) during a prosperous period of his life when he and his family were living in the home of a succesful business man. This man was also was financing his own orchestra and opera house. He called his opera-huis the centre of 'Ramisme' and Jean-Philippe Rameau was the leader of his orchestra.
'Pièces de Clavecin en Concerts' is performed by Olivier Fortin and Ensemble Masques.
These performances are accompanied by 'Pièces de clavecin' by Skip Sempé, and pieces from the opera 'Zaïs' by Rameau.
The opera pieces are performed by the French ensemble Ausonia conducted by Frédérick Haas.
Broadcasts:
Sunday 16 February 2014, 15.00 – 17.00
Monday 24 February 2014, 11.00 – 13.00