In Memoriam Louis Andriessen (1939-2021)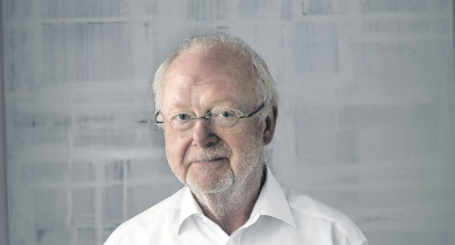 A special Thema broadcast on Wednesday 14th July will be a small hommage to Louis Andriessen, who passed away on 1st July at the age of 82 from Alzheimer's and vascular dementia.  
Andriessen is the most influential Dutch composer since Sweelinck. He left behind an incomparable oeuvre  in which the influences of minimal music, rock, avant-garde and Stravinsky can be detected. His concentrated, powerful style full of heavy blows and good notes stimulated followers the world over, especially in England and the USA.
This incomparable minimalist style of striking and powerful notes came to be quickly known as the Haagse style . It created masterpieces such as De Staat, Mausoleum, Hoketus and the opera De Materie.
Following his his drive for radical experiment and achievement he started groundbreaking ensembles such as Hoketus and De Volharding . Conductor Reinbert de Leeuw, who passed away last year, premiered many of Andriessen's works.
As well as the muscular and post-minimalist soundscape Andriessen's music also had a more poetic and serene side of delicate sounds and long, ecstatic moments.
In a special Thema episode On Wednesday 14th July we pay tribute to this great Dutch master, full of contemplative, dreamy and quiet works.
On Monday 19th July (20.00-22.00 ) we're repeating a Concertzender Live from August last year with two hours of ( rarely played ) recordings of his chamber music from the Orlando Festival 2019.
On Sunday 18th July in Sonoor: De Playlist van Louis: you can hear music Louis liked to listen to.