In Memoriam Reinbert de Leeuw (1938-2020)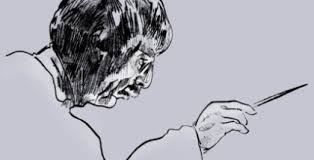 An inspired life fulfilled by music.
On Friday 14 February, the Dutch conductor, pianist and composer Reinbert de Leeuw died at the age of 81. Throughout his life he was a tireless advocate of contemporary and 20th century music and as leader of the Schönberg Ensemble and the subsequent AskoSchönberg he declared his unconditional love for the music of György Ligeti, György Kurtág, Steve Reich, Mauricio Kagel, Sofia Goebaidoelina, Galina Oestvolskaja and Claude Vivier. His name is inseperable from that of composer Louis Andriessen, a close friend for whom he premiered many works including the operas De Materie and Rosa. Other Dutch composers including Robert Zuidam, Jan van de Putte and Klaas de Vries were also closely associated with De Leeuw. De Leeuw was not himself a prolific composer. His best known compositions are the symphonic poem Abschied and his final work Der nächtliche Wanderer from 2014. He was best known by the general public for his revolutionary and extremely slow interpretations of the piano music of Erik Satie. In addition, he is also known for his interpretations of the late piano music of Franz Liszt. He also earned a reputation as a passionate music lover by this appearances in television programmes including the famous documentary series Toonmeesters (1994-1997) which presented portraits of composers including Henryk Górecki, Galina Oestvolskaja, György Ligeti and one of his particular favourites Olivier Messiaen. Reinbert de Leeuw gave an impressive farewell piano recital in the Amsterdamse Muziekgebouw on Sunday 12 January, together with the singer  Gerrie de Vries and the AskoSchönberg.
Mark van de Voort.
In the past, the Concertzender has regularly featured the life and work of Reinbert de Leeuw. There is a lot waiting to be discovered in our archives. Here are a few suggestions:
Panorama De Leeuw (the final episode) https://www.concertzender.nl/programma/panorama_de_leeuw_485277/
A recital with Vera Beths:
https://www.concertzender.nl/concertpodium/vera-beths-en-reinbert-de-leeuw/
Schönberg Ensemble live:
https://www.concertzender.nl/concertpodium/schonberg-ensemble-3/
https://www.concertzender.nl/concertpodium/schonberg-ensemble/
The music of Rob Zuidam:
https://www.concertzender.nl/programma/kroniek_van_de_nederlandse_muziek_447909/
The music of György Kurtág:
https://www.concertzender.nl/programma/sonoor_468979/
The music of Erik Satie:
https://www.concertzender.nl/programma/tussen_droom_en_daad_427255/
The music of Louis Andriessen:
https://www.concertzender.nl/programma/kroniek_van_de_nederlandse_muziek_408771/