Krizz Krazz through Fred's record collection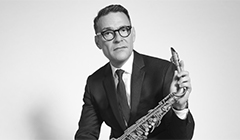 za 10 juli 2021 17:00 uur. In 2008 according to Esquire he was the Best Dressed Man, but long before that and still today Benjamin Herman remains at the top of the jazz pyramid.
Wind player, flautist, composer, (big)bandleader, winner of multiple prizes and awards, radio programme maker, musical entrepreneur…, It's a long list of functions Herman has carried out in the world of jazz and musically related fields.
The programme opens in a slow and lyrical fashion with a trio playing a composition by Jimmy Rowles, The Peacocks. Bassist Joris Teepe and drummer John Engels subtly support Herman's meditative solo playing.
The French pianist Pierre Christophe, who studied for years with Jaki Byard , aroused Herman's enthusiasm for this American multi-instrumentalist and composer. In 2001  Benjamin Herman Plays Jaki Byard  appeared– a quartet with Christophe at the piano. Brilliant playing by Herman, but don't overlook the pianist: a very alert accompanist who uses the whole keyboard in his solo with convincing mix of – in turns – extremely virtuoso styles.
The genre Jazz & Poetry is difficult for the listener. It's not easy to absorb both the text and the music as a whole. Lamento is a sad poem by the big jazz lover Remco Campert. On the album Campert (De tijd duurt één mens lang) the words deserve our full attention. The accompanying music is very close to the soft voice of the poet.
Misha Mengelberg is a favourite of Herman's. The cd Benjamin Herman Plays Misha Mengelberg appeared in 2007, and in 2008 Hypochristmastreefuzz-More Mengelberg. From the latter album you will hear No Idea, in a trio with bassist Ernst Glerum and drummer Joost Patocka.
The finale of this rich programme comes from another Herman: Woody! In 1963 his orchestra recorded Blues for J.P.  Everybody happy …
Krizz Krazz is a programme by Fred Dubiez.