Lautten Compagney and Buxtehude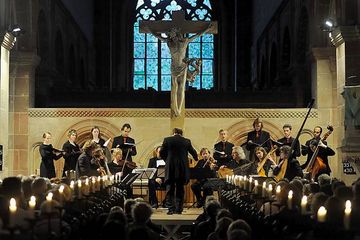 In Concertzender Live on Monday 21 April (11.00 – 13.00) we continue our broadcasts from the Early Music Festival with a performance by the Lautten Compagney of "Membra Jesu nostri" by Buxtehude and a concert by Concerto Scirocco.
The German ensemble Lautten Compagney together with the choir Capella Angelica were conducted by Wolfgang Katschner and performed the cantata cyclus "Membra Jesu nostri", BuxWV 75 by Dietrich Buxtehude during the Early Music Festival in Utrecht in 2012.

The ensemble Concerto Scirocco performed a Fabulous Fringe concert about the Italian influences in 17th century music titled 'Un Connubio Musicale', with music by Schütz, Banchieri, Gabrieli and others.
Concerto Scirocco are: Alice Borciani, soprano. Núria Sanromà, cornett. Claire McIntyre, trombone. Nathaniel Wood, trombone. Giulia Genini, dulcian en Marie-Odile Vigreux, organ.

Broadcasts:
Sunday 13 April 2014, 15.00 – 17.00
Monday 21 April 2014, 11.00 – 13.00