Madrigals by Gesualdo in Documento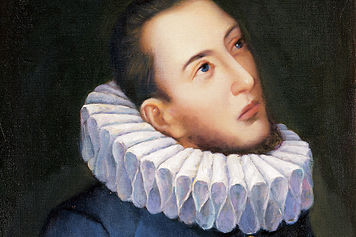 450 years ago, on 8th March 1566, Don Carlo Gesualdo da Venosa was born. We remember that in Documento on Monday 7th March at 19.00 .
Carlo Gesualdo, full name Don Carlo Gesualdo, Prince of Venosa (8/03/1566 – 8/09/1613) was an Italian composer, lute player and nobleman from the late Renaissance. Gesualdo is as much for his music as for his career a striking figure in classical music.
Of his music, consisting of religious, secular sung and instrumental music, it is above all his madrigals which have become famous, which in terms of harmony and expression were far ahead of their time.
In Documento on 7th March you can hear Gesualdo's madrigals from the collection Madrigali libro primo (1594), Madrigali libro quarto (1596), Madrigali libro quinto (1611), Sacrarum Cantionum quinque vocibus liber primus (1603) and Responsoria et alia ad Officium Hebdomadae Sanctae spectantia (1611). You can also hear madrigals from contemporaries Luzzasco Luzzaschi and Giovanni de Macque.
You can hear performances by Delitiae Musicae conducted by Marco Longhini, Musica Secreta, Ensemble Arte Musica conducted by Francesco Cera, Odhecaton and Ensemble Mare Nostrum conducted by Paolo da Col and La Compagnia del Madrigale.