Marijke Ferguson | 50 years of radio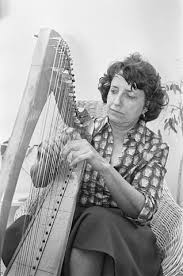 On Sunday 11 December 2016 at 16:00 we are recording a special 2 hour programme for music broadcaster and Early Music pioneer Marijke Ferguson to celebrate her 50 years in radio.
Marijke Ferguson recently celebrated her 90th birthday and  has been making radio programmes for 50 of those years.
The Concertzender is to celebrate this with a radio party on Sunday 11 December from 16.00 to 18.00.
For the first 27 years Marijke produced a weekly music programme for the NOS on Radio 4 and for the subsequent 23 years has produced the programme Radio Music Essay for the Concertzender.
Marijke also led the Early Music ensemble Studio Laren from the 1960s to 2000 and played recorder and harp in this ensemble. She also regularly organised classical 'jam sessions' together with the NOS in the old VARA-studio in Hilversum.
On Sunday 11 December a radio programme will be recorded in which old colleagues from Studio Laren will reminisce with her about their time together and perform live music for her. She will of course also have plenty to say.
You can be present during the recording! You need to be there on time to be sure of getting in, we recommend you are there by 15.45.
Location: the music room on the 4th floor of the Public Library (Openbare Bibliotheek) in Amsterdam.
The programme will be broadcast by the Concertzender on Thursday 29 December from 20.00 to 22.00 CET.