Markus, Brockes and St Matthew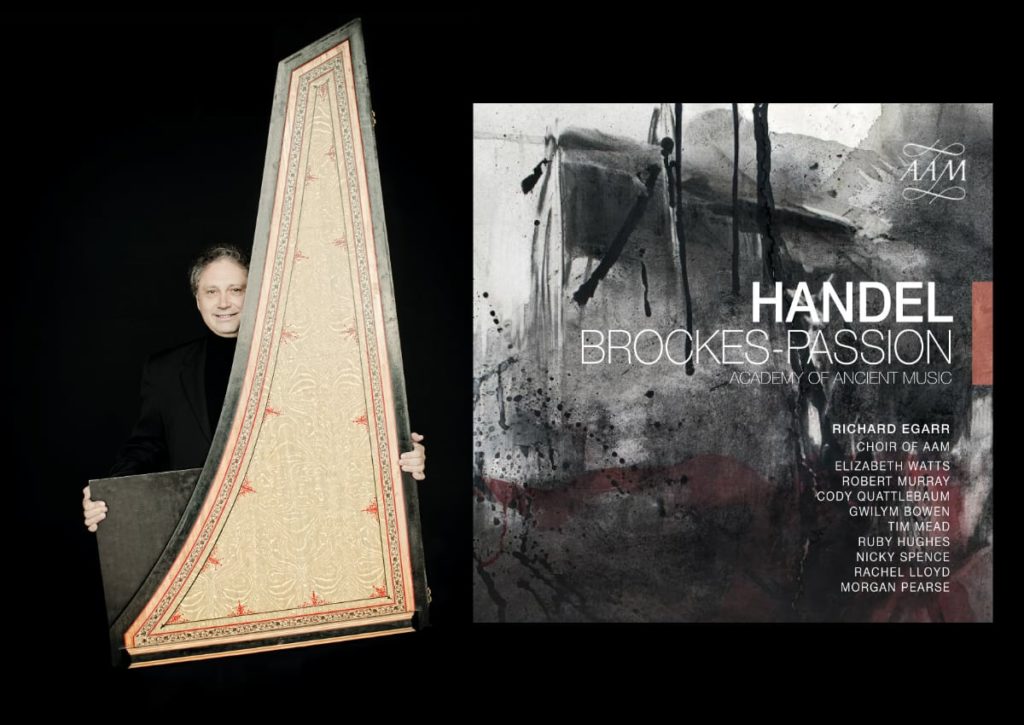 In the last 2 weeks before Easter, from 30th March to 10th April 2020, in Bach ad Infinitum we're playing three Passions: the St Mark's Passion in the arrangement by Jörn Boysen, excerpts from the Brockes Passion by contemporary Händel and Bach's St Matthew Passion by the J.S. Bach-Stiftung.
Of course during the production of Bach ad Infinitum we were confronted with the daily reality of the COVID-19 virus epidemic. All meetings have been forbidden for a while. We managed to produce a lot from home, but to record Govert Jan's text we had to get together.
That's impossible, so we had to improvise. With a bit of cut and paste Govert Jan is able to introduce Bach's St Mark's Passion in the version by Jörn Boysen , a Concertzender recording from 2016. We also called on the services of the honorary member of our Bach team: Joop van Zijl. In his own special way Joop introduces the St Matthew Passion in the version by the J.S. Bach-Stiftung conducted by Rudolf Lutz and explains why this version is so special.
There are also two new cd's which Govert Jan wanted to discuss and play. In April 2014 we met Arno Bornkamp in Café Zimmermann. Now, 6 years later, Arno has produced a lovely Bach CD . There wasn't much room in this overcrowded Passion week but you can hear some excerpts as a contrast with the Passions. We'll shortly be coming back to this lovely cd as it deserves everyone's attention.
Govert Jan is very enthusiastic about the new CD by Richard Egarr and his Academy of Ancient Music with a Händel-CD: the Brockes Passion. Unfortunately it's too long to play this Passion together with the two earlier Passions so we have to settle for a few excerpts. We also be coming back to this cd very soon. Don't miss it !
The Brockes Passion by Händel is an important work from which Bach borrowed a lot for his St John's Passion. He performed it several times and used some of its arias. Händel was a genial composer, that's unchallenged, and along with Telemann, Stölzel and Mattheson he wrote music for the Passion period on the basis of a certain Brockes, poet and senator in the rich city of Hamburg.
Brockes reduced the original evangelistic text for St Matthew and St John to a spoken version, more suitable for opera and not intended for church but for concert performance. The spoken works were baroque, theatrical, some times even bloody, and was strongly criticised by Bach's fellows in Leipzig. They wanted just the original bible texts as translated by Luther which could only be interrupted by church songs, chorales and the occasional aria.
The Passion should warn and stimulate consciousness of sins and penitence, no compromise. No lively music or enormous choirs. Bach used many of the Brockes texts for his St John's Passion arranged by Birmann, theology and mathematics student (he invented a sort of sextant ), but primarily a Bach pupil. He provided many texts for the cantatas such as the bass cantata 'Ich habe genug'.
The church council and city council felt Bach went to far in the direction of Brockes and criticised him strongly. As John Eliot Gardiner said: 'the church police attacked him strongly and Bach had to adapt'. He had good texts from Picander for his St Matthew Passion, but the Council were certainly not happy with this theatrical work. After the two passions it's just problems. It was so bad that Bach actually wanted to leave Leipzig. But where?
The Bach ad Infinitum team wishes everyone a good Passion week, and hopes that in these tough times Bach's music will bring happiness and above all consolation.
Broadcasts Bach ad Infinitum:
Monday 30th March to Friday 3rd April 2020, 13.00 – 14.00
Monday 6th to Friday 10th April 2020, 13.00 – 14.00
Here's the playlist for Bach ad Infinitum from Monday 30th March.