Miin Triuwa – a voyage of discovery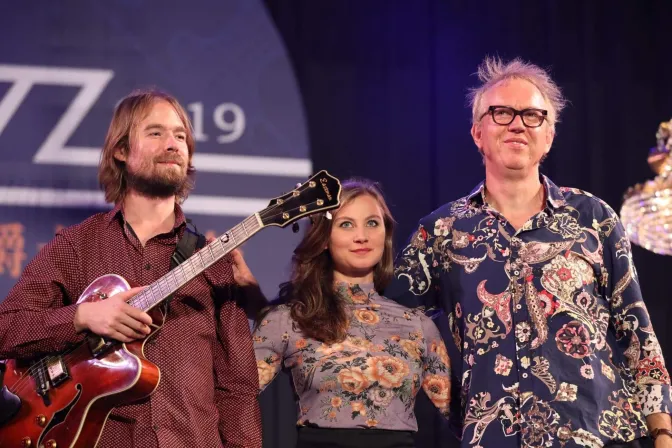 Saturday 10th December 2022, 14:00 – Concertzender Live. No, Under the Surface is definitely not your usual trio. And the often used term 'folkjazz' only covers part of it. With a rich collection of sound sources – plucked struments, voices, (much) percussion and electronics – the trio inhabits its very own style chamber in the music building. Influences from different exotic  cultures and ambient sounds are some of the most noticeable elements.
Miin Triuwa ("My Faith") is the third album by vocalist Sanne Rambags, guitarist Bram Stadhouders and percussionist Joost Lijbaart. Stadhouders composed a multi movement suite, Rambags wrote the texts. She translated it to Old Dutch, a language which has been spoken in these parts since about 1100 , but which we can't understand. According to Rambags the language is nice to sing in, and creates a fairytale atmosphere. Other appropriate words she uses are mysterious, fantastic, 'another world'.
The piece titles, translated into Dutch, fit in: Stick up, Northernwind – Fear and Loathing – Above the Heavens – The Sun of Wisdom. Many listeners will be able to project these easily in the music. Even without the meanings it's a musical experience. New, strange, yes, but accessible. And inviting.
The completely composed series of pieces leaves little room for improvisation – a break with the two previous albums by Under the Surface, in which it was completely the other way round. Textures range from a wall of sound to very thin lines. Sometimes pieces run into each other.
For this concert version of Miin Triuwa  the trio is expanded with three musicians, who play bass, several plucked instruments, percussion, keyboards and accompanying vocals .
Concertzender Live – Jaap van de Klomp