Miles Davis Retrospective #4 (Miles in 1964)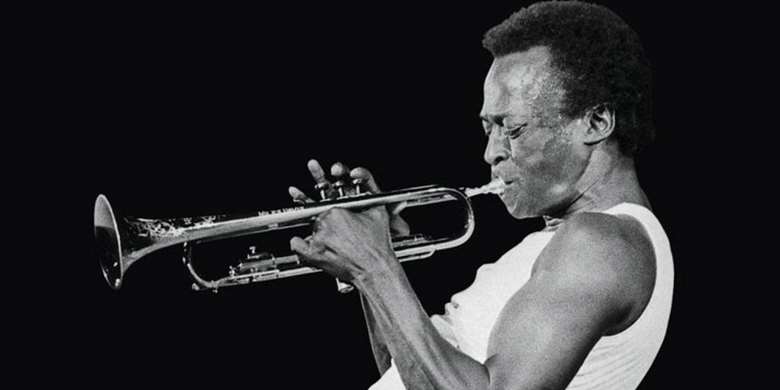 1964 was a qualitively rich year for Miles Davis. In Concertzender Live on Saturday 24 July 14:00 CET we can again enjoy three concerts from New York, Tokyo and Berlin.
At the start of 1963 Davis has staffing problems. Tenor sax John Coltrane is already long gone – alas, alas, and the rhythm section quits to go further as an independent trio. After a number of changes Davis is able to form a new top ensemble which has become known as the Second Great Quintet: Herbie Hancock on piano, Ron Carter on bass, the 17-year old! Tony Williams ("…who just blew my fucking mind…") on percussion and Wayne Shorter on tenorsax. Prior to Shorter a number of saxophonists occupied the tenor sax, including George Coleman and Sam Rivers.
In February 1964 the quintet played the New York Philharmonic Hall, with George Coleman on tenor sax. The recording led to two albums : My Funny Valentine and Four and More. Davis' biographer Ian Carr calls My Funny Valentine "…one of the very greatest recordings of a live concert." Davis loves the result. "It was a motherfucker the way everybody played – and I mean everybody."  You'll hear two pieces from this album, with an inspired Davis playing at his peak. His solo in Stella by Starlight is deeply emotional, and the interaction of the musicians is perfect.
A few months later tenor sax George Coleman left the band and Sam Rivers takes his place. In July the quintet plays a number of concerts in Japan, where Davis is received as a god. The greedy public greets each piece with welcoming applause, as can be heard on the album Miles in Tokyo. After My Funny Valentine there's a thrilling up-tempo version of So What.  After the tour Davis retains great appreciation and affection for the Japanese. Out of respect for his audience he doesn't follow his habit of leaving the stage after his solo.
And in September  it's Berlin's turn. Miles in Berlin is the first recording of the Second Great Quintet – now with tenorsax Wayne Shorter –, an ensemble which will last for years. Milestones en Walkin' are two up-tempo pieces. The closeness of the Rhythm section expresses itself in adventurous, extremely daring tempo changes.Pianist Herbie Hancock shows more and more courage and invention. Tremendous music!
Click here for the playlist.
Concertzender Live – a programme by Jaap van de Klomp