Miles Davis Retrospective #6 (1969-1970)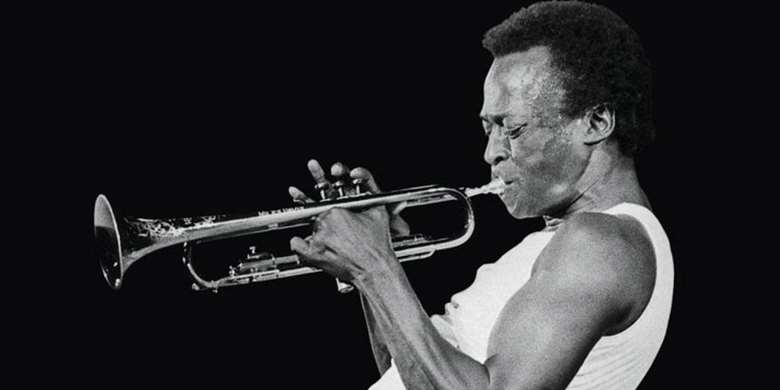 Our Miles Davis Retrospective continues in Concertzender Live on Saturday 28 August  at 14:00 CET. It is the end of the 1960s. Miles goes electric… Some of the old fans stop coming to his concerts, but there are new fans to take their place.
Davis had had enough of bebop and hardbop by the end of the 1960s. He was finished with standards, song formats and chord schemes. He also didn't like simply sitting back and exploiting his reputation. Davis said to his pianist Herbie Hancock: "We're not going to play the blues anymore. Let the white folks have the blues. They got 'em, so they can keep 'em. Play something else." That last part he would repeat frequently – don't play something that you already know, play something that you have never played before.
It was also a period in which jazz was in decline: the audiences were staying away, there were fewer performance opportunities, jazz clubs were closing and record sales were dropping. Other styles of music were on the rise. Funk and rock attracted a young and rapidly growing audience. The Woodstock Festival was attended by over 400,000 people in 1969! Record sales went through the roof. Davis watched these developments with great interest, including the musical developments on the stage and in the studios. He listened to James Brown, Sly and the Family Stone and Jimi Hendrix. He gave Hendrix  jazz lessons, and learned a lot from the guitarist at the same time. Davis: "He influenced me, and I influenced him (…)."
In July 1969 Davis played at the Newport Jazz Festival with a lineup that would evolve into the Bitches Brew Band. Chick Corea on Fender Rhodes piano, Dave Holland on bass and Jack DeJohnette on drums. Saxophonist Wayne Shorter didn't make it to the gig – he was stuck in traffic. Davis provided the band members with some scant information about the pieces that they were to play and then relied on the improvisational skills of his musicians – a trend he had already initiated, for example when making the album Kind of Blue in 1959. One year after Newport, in 1970, the studio album Bitches Brew was released. It was received with mixed reactions. Many fans of the hard bop Davis dropped out, but a new and young audience joined in. The album would acquire a classic cult status.
Three pieces from the Newport concert were only released in 2011 on the album Bitches Brew Live. Davis wrote Miles Runs the Voodoo Down and It's About That Time, Sanctuary is by Wayne Shorter. These are high-energy pieces. It's a shame that the bass is barely audible in the recordings.
In 1970 the Bitches Brew Band played at the Isle of Wight Festival, a multi-day festival with an estimated 600,000 visitors. The band consisted of seven musicians  with not one, but three,  electric instruments.
Jazz-rock fusion had arrived!
Concertzender Live – a programme by Jaap van de Klomp