Musical portrait Amandine Beyer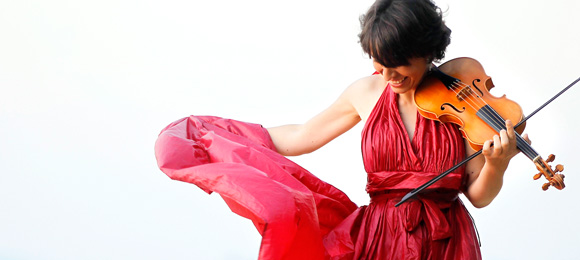 Amandine Beyer is currently the most prominent baroque violinist and she will be taking part in the Utrecht Early Music Festival 2014 that starts at the end of August. Listen to the musical portrait that we broadcast recently.
Amandine Beyer studied with Chiara Banchini in Basel. Here she discovered the world of rhetoric and came into contact with musicians such as Hopkinson Smith and Pedro Memelsdorff.
Since then she has embarked on a solo career and has also established two ensembles: Les Cornets Noirs and Gli Incogniti.
L'Esprit Baroque
In this episode of L'Esprit Baroque you can listen to Amandine Beyer with Gli Incogniti performing music by Nicola Matteis, Johann Sebastian Bach, Antonio Vivaldi and Arcangelo Corelli. In addition, she will be performing music by Robert De Visée and Carl Philipp Emanuel Bach together with the lutist Pascal Montheilhet and the pianist Edna Stern.
Finally, Amandine Beyer can be heard solo playing the complete Partita no. 2 in D Minor, BWV 1004 by J. S. Bach.
Early Music Festival 2014
Amandine Beyer will be playing on Wednesday 3 September in the newly opened TivoliVredenburg in Utrecht as part of the Early Music Festval 2014. She will be performing a programme of 17th century Austrian music by composers including Schmelzer, Froberger, Biber en Pandolfo Mealli together with Gli Incogniti.
The theme of the 2014 edition of the Early Music Festival is: Hapsburg, with music from Vienna and Prague.
The full programme of the Early Music Festival is in the festival brochure.