Nikolaus Harnoncourt as instrumentalist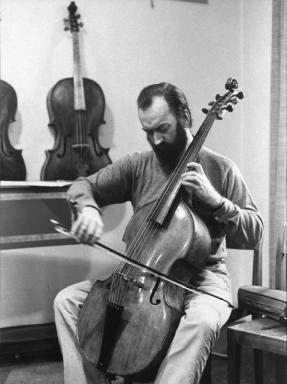 The recently deceased conductor Nikolaus Harnoncourt started his musical career as a cellist and can be heard on various recordings. Documento on Monday 21 March (19.00-20.00 CET) features some of these early recordings with Harnoncourt.
As a conductor, Nikolaus Harnoncourt, together with Frans Bruggen and Gustav Leonhardt (who are also both deceased) is known as a pionier in authentic performances of classical music with period instruments. However, Harnoncourt started his musical career as a cellist with the Wiener Symphoniker.
In 1965 Harnoncourt made a recording with Alfred Deller of some mediaeval music, troubadour songs from the 13th and 14th centuries. Nikolaus Harnoncourt plays a tenor fiddle during this recording, and his wife Alice Harnoncourt plays the pardessus de viole.
Nikolaus Harnoncourt worked with Gustav Leonhardt for many years, and together they were responsible between 1971 to 1990 for the first recording of all the Bach cantatas. They also made a recording of Baroque music by Jean-Philippe Rameau together in 1973.
In the 1960's and 1970's, Harnoncourt, togther with his wife and Concentus Musicus recorded the violin concertos by  Johann Sebastian Bach. Although Nikolaus Harnoncourt is credited as conductor for these recordings, it is likely that he also played the cello.
Broadcasts:
Monday 21 March 2016, 19.00 – 20.00 CET
Tuesday 29 March 2016, 14.00 – 15.00 CET
Wednesday 30 March 2016, 11.00 – 12.00 CET