American Highways
AMERICAN HIGHWAYS #85: The "Classical:Next" Expo and Festival – The yearly festival for the music industry in Rotterdam was last week. This is Guy Livingston's musical round-up of the highlights…
Tonight we'll hear the Del Sol Quartet talk about aliens, David Krakauer and Kathleen Tag talk about political engagement; Frank J. Oteri lamenting the rise of free; and the Ark Lab lamenting the rise of the sea. Music of Michael Gordon, Jerez Le Cam, Geof Holbrook, Sean Hickey, Park Jiha, and Ned McGowan.
Theme Music :
Steve Reich. The Desert Music (1984)
First Movement (Fast).
Chorus of the Brooklyn Philharmonic, Members of the Brooklyn Philharmonic, Michael Tilson Thomas & William Carlos Williams.
Nonesuch Records 79101.
Michael Gordon
The Unchanging Sea
Bas Wiegers conducts the Rotterdam Philharmonic Orchestra, Tomoko Mukaiyama piano soloist
Live performance at the Doelen, Rotterdam, Friday, May 19th, 2017
Kathleen Tagg and David Krakauer
Demon Chopper
Breath & Hammer Duo
Live performance at Worm, Rotterdam, Friday, May 19th, 2017
Jerez Le Cam
Brava Daga
Jerez Le Cam Quartet: Jerez Le Cam, piano; Iacob Maciuca, violin; Mihai Trestian, cimbalom; and Manu Comté, bandonéon
Live performance at the Doelen, Rotterdam, Thursday, May 18th, 2017
Geof Holbrook
Volkmobiles
Ensemble Collectif9
Live performance at the Doelen, Rotterdam, Thursday, May 18th, 2017
Sean Hickey
Concerto for Cello and Orchestra
St. Petersburg State Symphony Orchestra; conducted by Vladimir Lande; Dmitry Kouzov, cello
DELOS DE 3448
Park Jiha
Communion
Park Jiha piri/saenghwang/yanggeum; John Bell, vibraphone; Kim Oki tenor sax and bass clarinet; Kang Tekhyun, percussion
Live performance at the Doelen, Rotterdam, Thursday, May 18th, 2017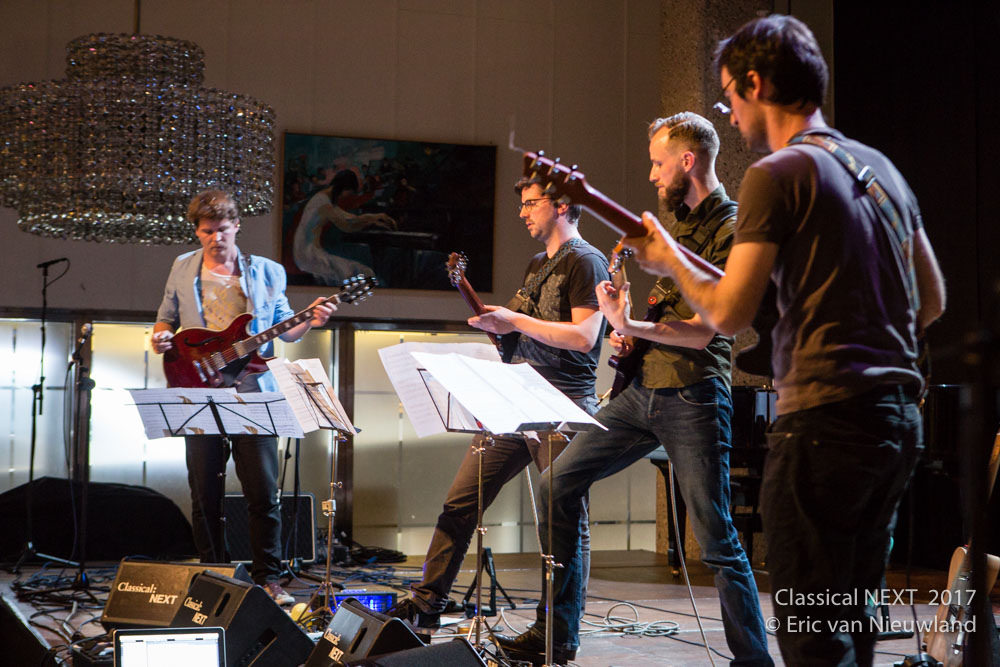 Zwerm
Semper Dowland Semper Dolens
Zwerm: guitars
Live performance at the Doelen, Rotterdam, Thursday, May 18th, 2017
Ned McGowan
Earthly Chants – The Singing Wall
Ned McGowan, contrabass flute and electronics
Live performance at Worm, Rotterdam, Friday, May 19th, 2017
Samenstelling & presentatie:

Guy Livingston