Panorama De Leeuw
Panorama de Leeuw XXXIV: Tanglewood.
Thea Derksen traces the musical footsteps of Reinbert de Leeuw, inspired by her biography Reinbert de Leeuw, mens of melodie.
In 1991 the British conductor Oliver Knussen makes his first appearance with the Schönberg Ensemble. He instantly clicks with Reinbert de Leeuw and a year later he invites Reinbert to be a guest programmer at the Aldeburgh Festival (featured in episode 27). Two years later Knussen invites him again, this time to teach at the summer academy in Tanglewood. Reinbert becomes Knussen's successor as director of the contemporary music department, an office he will occupy for five years.
De Leeuw changes the accent from academic, so called 'uptown' music, to more accesible 'downtown' music. Straight away in 1994 for instance, he put the New York Bang On A Can ensemble on stage with a controversial performance of Louis Andriessen's Hout. He also introduces the music students to compositions by composers such as Sofia Gubaidulina, Rob Zuidam and Claude Vivier.
If you purchase the biography using this link you will support the Concertzender at no extra costs.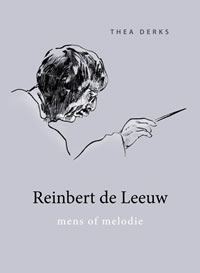 1. Louis Andriessen. Hout.
Bang on a Can All Stars.
2. Sofia Gubaidulina. Rubaiyat: Cantata for baritone and chamber ensemble. Unknown ensemble conducted by Gennadi Rozjdestvenski. With Sergei Jakovenko, baritone.
3. Rob Zuidam. Nella città dolente.
Dutch Chamber Choir and Schönberg Ensemble conducted by Reinbert de Leeuw
4. Claude Vivier. Zipangu.
Asko Ensemble and Schönberg Ensemble conducted by Reinbert de Leeuw.
Compiler, host and sound engineer: Thea Derks
Produced & presented by: