Wereldmineralen
Opnamen van twee vooraanstaande Amerikaanse singer-songwriters: Lori McKenna en Sara Bareilles
Lori McKenna, geboren in december 1968, is een Amerikaanse country- en folkzangeres. Zij woont al haar gehele leven in Staunton, Massachusetts, is al ruim dertig jaar getrouwd en moeder van vijf kinderen. Vaak put zij muzikale inspiratie uit haar gezinsleven en uit haar familiegeschiedenis, zoals bijvoorbeeld is te horen op haar meest recent verschenen album The Tree. Maar Lori McKenna's liedjes gaan ook over vallen en opstaan, over de ups en downs van de liefde, waarbij de doorleefde zang van McKenna je kan meenemen naar een arbeidersmilieu of naar een uitzichtloos leven in een kleine saaie stad waar nooit iets spannends gebeurt. Het zijn allemaal liedjes met een kalme, eerlijke blik op het leven van alledag.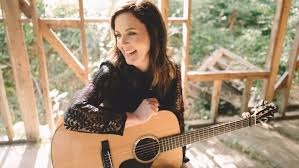 Lori McKenna kan gerekend worden tot de allerbeste Amerikaanse songwriters. Zij schudt al decennialang de liedjes uit haar mouw en is niet alleen gekend en gevierd om haar eigen opgenomen oeuvre, maar ook om songs die zij schreef voor- of in samenwerking met andere muzikanten, zoals bijvoorbeeld Alison Krauss, Tim McGraw, Reba McEntire, Keith Urban, Lady Gaga, en ook… Sara Bareilles, de Amerikaanse zangeres die ook in deze uitzending centraal staat.
Lori McKenna won voor haar werk al belangrijke muziekprijzen, onder andere enkele Grammies en een aantal Country Music Association Awards.
De bekende Amerikaanse singer-songwriter Sara Bareilles, in december 1979 geboren in Eureka, Californië, woont in New York. Haar muziek omschrijft zijzelf als 'piano based pop soul'. In 2007 scoorde zij een internationale hit met het liedje Love Song, afkomstig van haar tweede album Little Voice. Sara Bareilles is zeer veelzijdig – behalve muziek maken, acteerde zij al in tv-series en zij schreef onder meer een boek met verhalen over haar muziek in relatie tot haar leven. In 2018 zong zij de rol van Maria Magdalena in een NBC-live-televisie-opvoering van Jesus Christ Superstar. En zeer succesvol was Sara Bareilles de afgelopen jaren op Broadway met de musical Waitress, waarvoor zij de muziek schreef en waarin zij zelf de hoofdrol zingt. Deze musical Waitress wordt vanaf oktober 2020 ook opgevoerd in Nederland.
Voor haar meest recente album Amidst The Chaos liet Bareilles zich inspireren door de vrouwenbeweging, en dan met name door de Women's Marches van 2017, die fel gekant waren tegen het beleid van de Amerikaanse president Donald Trump. Op Amidst The Chaos staan ook songs die Sara Bareilles schreef in samenwerking met Lori McKenna, de singer/songwriter die ook in deze uitzending centraal staat. Het samen met McKenna geschreven lied Saint Honesty leverde Bareilles op 26 januari 2020 zelfs een Grammy op voor Best American Roots Performance.
Speellijst:
Tijdens de introductie van het programma:
Lori McKenna – The Fixer (acoustic)
Componist: Lori McKenna
YouTube Nashville Sessions https://www.youtube.com/watch?v=z7KXU1M116I
Sara Bareilles – Saint Honesty
Componist: Sara Bareilles, Lori McKenna
Album: Amidst The Chaos
Label en Jaar: Epic 19075931042, C. 2019
Hierna, achtereenvolgens:
Lori McKenna – Bible Song
Componist: Lori McKenna
Album: Bittertown
Label en Jaar: Signature Sounds Recordings SIG 1285, C. 2004
Lori McKenna – Lone Star
Componist: Lori McKenna
Album: Bittertown
Label en Jaar: Signature Sounds Recordings SIG 1285, C. 2004
Lori McKenna – People Get Old
Componist: Lori McKenna
Album: The Tree
Label en Jaar: CN Records, C. 2018
Lori McKenna – The Fixer
Componist: Lori McKenna
Album: The Tree
Label en Jaar: CN Records, C. 2018
Lori McKenna – Humble and Kind (acoustic)
Componist: Lori McKenna
Op YouTube: https://www.youtube.com/watch?v=iw9b3mhsOHg
Lori McKenna – Humble and Kind
Componist: Lori McKenna
Album: The Bird and the Rifle
Label en Jaar: CN Records, C. 2016
Lori McKenna – A Mother Never Rests
Componist: Lori McKenna
Album: The Tree
Label en Jaar: CN Records, C. 2018
Lori McKenna – All These Tings
Componist: Lori McKenna
Album: The Bird and the Rifle
Label en Jaar: CN Records, C. 2016
Lori McKenna – Old men Young Women
Componist: Lori McKenna
Album: The Bird and the Rifle
Label en Jaar: CN Records, C. 2016
Sara Bareilles – Armor
Live-optreden in The Town Hall/New York in radioshow Live From Here, 14 december 2019
Componist: Sara Bareilles
Audio via https://www.livefromhere.org/shows/2019/12/13/sara-bareilles-los-lobos-sarah-jarosz-isaac-powell-of-west-side-story-maria-bamford-dave-hill
Sara Bareilles – She Used To Be Mine
Componist: Sara Bareilles
Album: What's Inside: Songs From Waitress
Label en Jaar: Epic 8875160632, C. 2015
Sara Bareilles – Gravity
Live-optreden in The Town Hall/New York in radioshow Live From Here, 13 april 2019
Componist: Sara Bareilles
Op YouTube: https://youtu.be/J__Ulo_XRgw
Sara Bareilles – Saint Honesty
Live-optreden in The Town Hall/New York in radioshow Live From Here, 13 april 2019
Componist: Sara Bareilles, Lori McKenna
Op YouTube: https://youtu.be/J__Ulo_XRgw
Sara Bareilles (with The Milk Carton Kids) – Someone Who Loves Me
Live-optreden in The Town Hall/New York in radioshow Live From Here, 13 april 2019
Componist: Sara Bareilles
Op YouTube: https://youtu.be/J__Ulo_XRgw
Sara Bareilles (als Maria Magdalena) – I Don't Know How To Love Him
Muziek en tekst: Andrew Lloyd Webber, Tim Rice
Jesus Christ Superstar Live In Concert (DVD), NBC live tv-uitzending, 1 april 2018 / Sony, C. 2018
Quotes van beide zangeressen in de uitzending zijn afkomstig uit de volgende op YouTube gepubliceerde interviews:
Lori McKenna Talks Fame, Family And Sings From Her New Album "The Tree" https://www.youtube.com/watch?v=aGBEnq0iohA
Lori McKenna – I Played The Ryman – WSM Radio https://www.youtube.com/watch?v=kwIUA-GOyYA
Lori McKenna – Massachussetts 4.23.13 https://www.youtube.com/watch?v=al10Hefhctk
Sara Bareilles on her path to writing Waitress: 'My life took nothing but left turns'

Samenstelling: