Run for your Wife !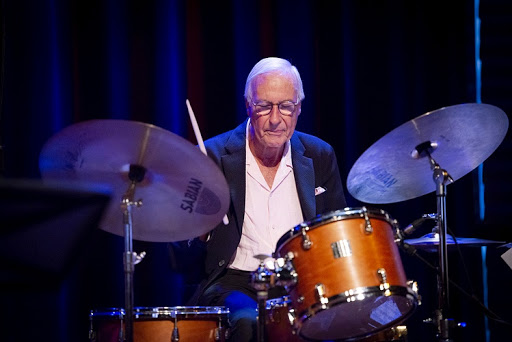 Sa 15 may – 17:00 uur House of Hard Bop.
No speed limits for Europe's First Hard Bop Quintet.
After their spectacular first prize at the NOS Meervaart Jazz Podium in 1985, the Ben van den Dungen/Jarmo Hoogendijk Quintet realy took off. The hard bop formation registered success both at home and abroad. Albums follow, with the regular line up of: Ben (sax), Jarmo (trumpet), pianist Rob van Bavel, bass Harry Emmery and Eric Ineke (photo) – yes your programme maker – on drums.
'No speed limits' covered not just the fast tempi, but also for example the unified rhythmic playing by the wind, such as in the theme from the title track of the album Run For Your Wife, a perfectly played extremely capricious melody. The compositions – mostly composed by Ben and Jarmo – have a flexible structure through exchanges between different sections. Slow, often " searching " intro's, tempo changes, just as room for solos from bass and drums is interwoven into the piece. On Caught For Speeding, written by Jarmo Hoogendijk, we hear the alas now inactive trumpeter excel in trios, and in duos/duel with the drummer. Right at the start we find ourselves in the middle of a brilliant improvisation, thereafter one after another trumpet and drums, and when finally a collectively played theme is played that signals the beginning of the end.
Never a dull moment.
House of Hard Bop – a programme by Eric Ineke