Soloist portrait Sigiswald Kuijken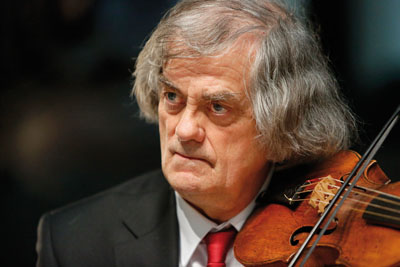 On Wednesday 11th March in No Day without Bach (13.00-14.00 ) the soloist portrait will be devoted to Sigiswald Kuijken. In this we'll be looking forward to his performance of the St John Passion by Bach, on 26th March in the Concertgebouw.
Sigiswald Kuijken is a Flemish violinist, conductor but also a viola da gamba player who together with Gustav Leonhardt, Frans Brüggen and Anner Bylsma was one of the founders of the authentic performance music movement. For instance he advocated performing all Bach cantatas on the scientific basis that Bach had never written them for a choir but for a small number of soloists.

Sigiswald Kuijken will perform the St John Passion on Thursday 26th March in the Concertgebouw. He will do this with a small ensemble of just 8 singers.
His performance of the St John Passion will be broadcast in No day without Bach on Thursday 12th and Friday 13 March.
In the soloist portrait you can hear the 4th Brandenburg Concerto, the Violin Concerto in a BWV 1041 and excerpts from the Musical Offering and the St Matthew Passion, in which Sigiswald plays the viola da gamba .
Broadcasts:
Wednesday 11th March, 13.00-14.00
Wednesday 18th March, 13.00-14.00