Spanish music from the Cancionero de Palacio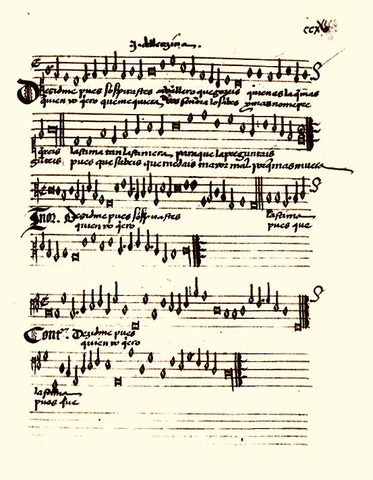 In Document on Monday 2nd February at 19.00 you can hear Spanish music from the 'Cancionero de palacio', a music manuscript from the beginning of the 16th century.
The 'Cancionero de palacio' is a music manuscript compiled between 1470 and 1520. It was possibly in use at the court of the " Catholic King " Ferdinand of Aragón and Isabella of Castilië.

You'll hear a selection of works from the manuscript in this programme, such as songs by Juan del Encina, Gabriel Mena, Pedro de Escobar and instrumental works by Francisco de la Torre and anonymous composers.

Performers will include:
Capella De Ministrers conducted by. Carles Magraner
Hespèrion XX conducted by. Jordi Savall
Musica Ficta
Capella De La Torre conducted by Katharina Bäuml

Broadcasts: