Sparkling party in Concertzender Live

A feast day means a feasty concert recording! On King's Day in Concertzender Live (20.00 ) you can hear two recordings from the  Early Music Festival 2016: 'Carnivalesque' by Micrologus and the Fabulous Fringeconcert by Concerto Ripiglino.
Doughroller and doughball
During the Early Music Festival 2016 the 8 singers and instrumentalists from Micrologus led by singer and harpist Patrizia Bovi created a sparkling renaissance party in the Utrechtse Geertekerk.
The programme 'Carnivalesque' consisted of various 15th century intermezzi in comedies and with characters from the commedia dell'arte, such as Scaramella, the beloved Giannolo and Rosina and the unhappy wife Ramacina.
'The dance of the doughball and the doughroller ' was the amazing end of one of the highlights of the festival.
Stringpuzzle
After this recording comes the Fabulous Fringeconcert by Concerto Ripiglino, performed on 29th August 2016 in the Grote Zaal of TivoliVredenburg.
This young ensemble from Basle is named after the Italian word (Ripiglino) for Cat's Cradle, a string puzzle from which various designs can be made. It's a reference to the 17th and 18th century instrumental (often consort) music in England, Italy and Austria.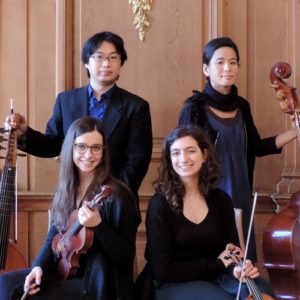 They played works by Salomone Rossi, John Jenkins, Antonio Bertali, Heinrich Ignaz Franz von Biber, Juan Bautista José Cabanilles and Johann Schmelzer.
Concerto Ripiglino (photo right ) consists of: Natalie Carducci and Coline Ormond, violins. Ryosuke Sakamoto, viola da gamba. Shuko Sugama, violone. Yuka Nitsuma, organ and harpsichord.
Broadcasts:
Thursday 27th April 2017, 20:00 – 22:00
Friday 5th May 2017, 15:00 – 17:00
Click here for the playlist: