Super Librum and Valentin Tournet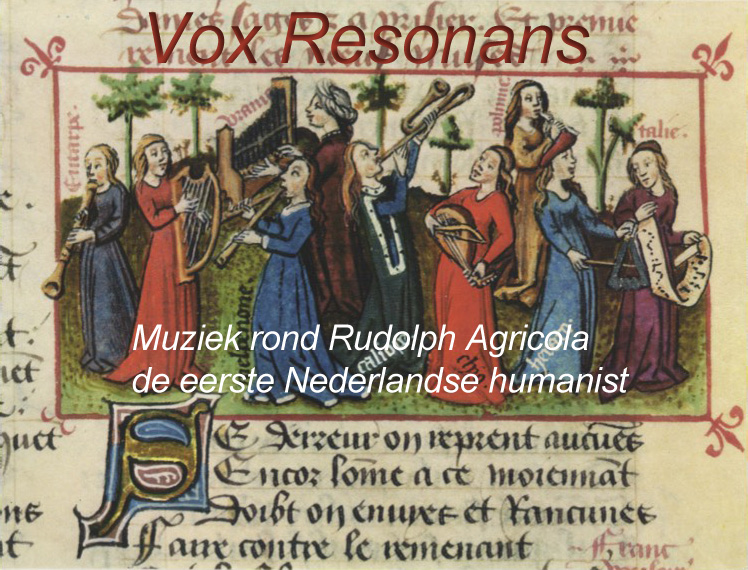 In Concertzender Live on Friday 5th February (15.00-17.00 )  a recording of the concert Vox Resonans by the Groningen ensemble Super Librum with music about Rudolph Agricola, and a Fabulous Fringeconcert from the young French gamba player Valentin Tournet.
In 2015 the Groningen ensemble Super Librum for Middle ages, Renaissance and modern music celebrated its 30th anniversary. In oktober 2015 this ensemble, conducted by recorder player and organist Jankees Braaksma, played concerts with music about Rudolph Agricola (1443-1485), the first Dutch humanist.
They played in three locations where Agricola worked: Baflo, Deventer en Groningen.
Early and Modern Music
Apart from music by Agricola himself, the programme includes modern music composed by composers from Groningen : Anke Brouwer and Peter Lunow. Both used Latin poems by Agricola in their works.
The music is composed for (reconstructed) Middle Ages instruments, including a Middle Ages organ from Agricola's time and a Middle Ages carillon, and two singers.
Themes in this music are a beautiful epitaph in honour of a noble lady from Baflo ( Eelste Meyma, who sponsored Agricola's journey to Italy at the time) and a poem about the popular 15th century saint Anna Mater. Both new compositions were premiered during this tour.
The Groningen ensemble Super Librum comprises in this programme an international cast of specialists, coming from among other places Chile, the Czech Republic and the US. The Chilean harpischord player/organist Catalina Vicens, who lives in Bazel, plays a Middle Ages organ reconstructed by Winold van der Putten ; Tomas Flegr from the Czech Republic plays a Middle Ages carillon, built by Simon Laudy as described by the Middle Ages monk Theophilus.
Tous les Matins du Monde
The other concert is a Fabulous Fringeconcert from the Festival of Early Music 2015 that was given by the young French gambist Valentin Tournet. The programme Tous les Matins du Monde includes gamba music by Jean-Baptiste Lully, Eustache du Caurroy, Marin Marais and from both father and son De Sainte-Colombe.
Broadcasts:
Thursday 28 January 2016, 20.00 – 22.00 CET
Friday 5 February 2016, 15.00 – 17.00 CET