Classical Matters 2016 Nr 6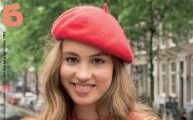 With recorder player Lucie Hirsch as the Vivaldi soloist of your dreams.
Nigel Kennedy musical portrait.
Alexandre Tharaud with a bouquet of Rachmaninov.
Harpist Lavinia Meijer with The Glass Effect.
Het Concertgebouw with Klassieke Klanken in the cold winter months.
Ode to an island by pianist Yann Tiersen.
The classical musician as entertainer, violinist Arabella Steinbacher.
Beethoven's Castle, a story by Edwin Rutten.
Jubileum with an old favourite: Cecilia Bartoli.
Ensemble 'Florilegium' 25 years!
Label portrait of Alpha Classics.
Schulhoff complete by the Alma Quartet.
The choir of the Sistine Chapel.
Jaap van Zweden with Vivaldi for charity.
Violinist Lisa Batiashvili.
CD-reviews.
Hans Heg's column.
Classical children's matters and much more.