Gaudeamus Muziekweek 2006: Ensemble Ziggurat
8 september 2006, BIMhuis, Amsterdam
Concertopname met minder gangbare instrumenten als de duduk en erhu.
Ook zijn verder te horen de panfluit en de qanun als minder bekende instrumenten.
Het Ensemble Zigurat bestaat uit:
Fang Weiling – erhu (Chinese violin),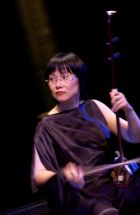 Matthijs Koene – panflute,
Raphaela Danksagmüller – recorder and duduk (Armenian double reed instrument),
Bassem Alkhouri – qanun (plucked cither from the Middle East), voice (tenor),
Karin Preslmayer – viola da gamba, Victor Vega García – double bass en
Enric Monfort – percussion
Zij spelen werk van:
Marios Joannou Elia, Kim-Ho Ip, Vedran Mehinovic, Farangis Nurulla-Khoja,
Pei-Yu Shi en Theo Loevendie.
Ook deze muziekweek van Gaudeamus gaf jonge componisten een kans om hun werk op het concertpodium te laten horen waarbij ze ook deelnamen aan een competitie.
Cyprus Story
Marios Joannou Elia (1978), Cyprus
Ensemble Ziggurat: Fang Weiling - erhu (Chinese violin), Matthijs Koene - panflute, Raphaela Danksagmüller - recorder and duduk (Armenian double reed instrument), Bassem Alkhouri - qanun (plucked cither from the Middle East), voice (tenor), Karin Preslmayer - viola da gamba, Victor Vega García - double bass, Enric Monfort - percussion
Tactile
Kim-Ho Ip (1974), China
Ensemble Ziggurat: Fang Weiling - erhu (Chinese violin), Matthijs Koene - panflute, Raphaela Danksagmüller - recorder and duduk (Armenian double reed instrument), Bassem Alkhouri - qanun (plucked cither from the Middle East), voice (tenor), Karin Preslmayer - viola da gamba, Victor Vega García - double bass, Enric Monfort - percussion
Zed
Vedran Mehinovic (1981), Bosnia-Herzegovina
Ensemble Ziggurat: Fang Weiling - erhu (Chinese violin), Matthijs Koene - panflute, Raphaela Danksagmüller - recorder and duduk (Armenian double reed instrument), Bassem Alkhouri - qanun (plucked cither from the Middle East), voice (tenor), Karin Preslmayer - viola da gamba, Victor Vega García - double bass, Enric Monfort - percussion
Three rivers, four strings
Farangis Nurulla-Khoja (1972), Tajikistan
Ensemble Ziggurat: Fang Weiling - erhu (Chinese violin), Matthijs Koene - panflute, Raphaela Danksagmüller - recorder and duduk (Armenian double reed instrument), Bassem Alkhouri - qanun (plucked cither from the Middle East), voice (tenor), Karin Preslmayer - viola da gamba, Victor Vega García - double bass, Enric Monfort - percussion
Mono I
Pei-Yu Shi (1973), Taiwan
Ensemble Ziggurat: Fang Weiling - erhu (Chinese violin), Matthijs Koene - panflute, Raphaela Danksagmüller - recorder and duduk (Armenian double reed instrument), Bassem Alkhouri - qanun (plucked cither from the Middle East), voice (tenor), Karin Preslmayer - viola da gamba, Victor Vega García - double bass, Enric Monfort - percussion
Knot
Theo Loevendie (1930), Netherlands
Ensemble Ziggurat: Fang Weiling - erhu (Chinese violin), Matthijs Koene - panflute, Raphaela Danksagmüller - recorder and duduk (Armenian double reed instrument), Bassem Alkhouri - qanun (plucked cither from the Middle East), voice (tenor), Karin Preslmayer - viola da gamba, Victor Vega García - double bass, Enric Monfort - percussion