L'Olimpiade, the Opera 1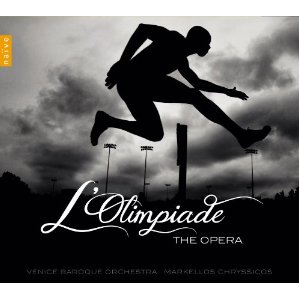 maandag 23 juli, 18.00 – 19.00 uur
I.v.m. de Olympische Spelen in Londen, in de komende 2 afleveringen de pastiche-opera 'L'Olimpiade, the Opera'. Muziek van 16 componisten, op een libretto van Metastasio (1698-1782).
In deze aflevering Acte 1 en het 1e deel van Acte 2.
Componisten: Caldara, Cherubini, Cimarosa, Galuppi, Gassmann, Hasse, Jommelli, Leo, Mysliveček, Paisiello, Perez, Pergolesi, Piccinni, Sarti, Traetta en Vivaldi.
Uitvoerenden:
Romina Basso, mezzo-sopraan (Megacle)
Franziska Gottwald, mezzo-sopraan (Licida)
Karina Gauvin, sopraan (Argene)
Nicholas Phan, tenor (Clistene)
Ruth Rosique, sopraan (Aristea)
Nicholas Spanos, countertenor (Aminta)
Venice Baroque Orchestra olv Markellos Chryssicos
Ga hier naar het programma.