Concertzender Actueel
Wekelijkse actualiteiten, met CD van de week, de concertagenda en interviews met gasten. Presentatie Evert Jan Nagtegaal
Interviews
---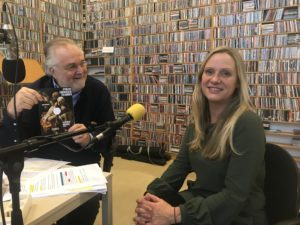 Manon van den Berg, educator bij het Centraal Museum, vertelt over de tentoonstelling rond de schilder Caravaggio en de vier concerten die speciaal voor deze tentoonstelling gaan plaatsvinden.
Utrecht, Caravaggio en Europa van 16 december 2018 – 24 maart 2019 in het Centraal Museum
---
Interview met Jacob Lekkerkerker. componist, organist en improvisator in het kader van 'the instrument of troubled dreams' en over de serie Silence. Iedere eerste vrijdag van de maand, 8 uur 's ochtends in de Oude Kerk te Amsterdam
---
Playlist
---
Jasperina de Jong – Sinternationale
---
Wolfgang Amadeus Mozart – Serenade nr. 7, KV 250 deel 3, Menuetto
Wiener Philharmoniker olv. Leonard Bernstein
---
Bill Evans, Peace piece, Igor Levit
---
Interview Manon van den Berg
---
Carlo Gesualdo di Venosa – Domine Deus salutatis meae
---
Spinvis – Sort Sol 3
door het Nederlands Kamerkoor en Saartje van Camp, cello
---
Jacob van Eyck – Come again
door Sabine d'Hondt
---
Phronesis – One for us
Live te zien zondag 27 januari 2019 in TivoliVredenburg Meer info
en vrijdag 29 maart 2019 in LantarenVenster te Rotterdam Meer info 
---
Johann Theile – Nun ich singe, Gott ich knie
door L'Arpeggiata met Christina Pluhar
Barokensemble Consort of Voices
Meer info
---
Interview Jacob Lekkerkerker
---
Jan Pieterszoon Sweelinck – ps 138
door La Camerata Barouque en la Tromboncina olv. Daniel Meylan
---
Franz Liszt – Harmonies du soir uit de Études d'exécution transcendante S139/11
gespeeld door Lisztconcours prijswinnaar Alexander Ullman
---
Finse componist Sebastian Hilli – Paraphrase II – Giant steps and eden acid
uitgevoerd  door het New European Ensemble
---
Claude Debussy – boek 1, L117 deel 2 voiles
door pianist Fazil Say
---
Ensemble Trigon – Een kindekijn is ons gheboren
olv.  Margot Kalse
---
Cd van de week
---
Een nieuwe cd van het Damask Vocal Quartet met Flore Merlin piano, met de titel "O schöne Nacht". Vocale Kamermuziek van Brahms, von Herzogenberg, Kirchner en Jenner. Uitgekomen op het label 7 Mountain records.
Johannes Brahms – Wechsellied zum Tanze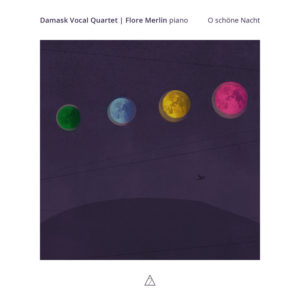 ---
Fábia Rebordão – Por sombras me dei a luz
a.s. zaterdag 8 december in De Doelen; live te zien en horen
---
Benjamin Britten – Saint Nicolas comes to Myra and is chosen Bishop The Death of Nicholas Nicholas and the Pickled Boys
door Britten Sinfonia
Samenstelling: