Radio Monalisa
Vrouwelijke componisten: klassiek, jazz, hedendaags – gekozen en gepresenteerd door Patricia Werner Leanse. Werken van de Nieuw-Zeelands/Amerikaanse componiste Annea Lockwood.
Annea Lockwood (New Zealand/USA, 1939).
1. RCSC (2001), for solo (prepared) piano.
2. Thirst (2008), a tape composition.
3. In Full Bloem Parts I & II (1990), for an ensemble of oboes, clarinets, didjeridus, gongs, conches, trombones, frame drums and voice.
4. Monkey Trips (1995), for strings, winds and percussion [zie foto onder].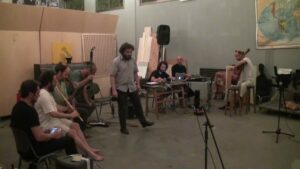 Samenstelling & presentatie:

Patricia Werner Leanse