Concertzender Actueel
Wekelijkse actualiteiten, met CD van de week, de concertagenda en interviews met gasten.
Presentatie: Evert Jan Nagtegaal
Interview Katharine Dain over Cd Regards sur L'Infini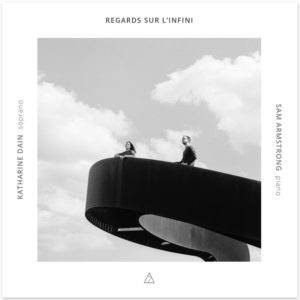 Playlist
Beethoven –  Bagatelle op. 119 no.3,  John Lill, piano
Luca Francesconi – Spicato il Volo
Patricia Kopatchinskaja, Il Gardino Armonico
cd van de week What's next Vivaldi?
Pietro Locatelli – Sonate op.6, Andante
Igor Ruhadze, viool. Ensemble Violini Capricciosi   Info Nieuw Podium Klassiek Almere
CD Regards sur L'infini. Katherine Dain, sopraan. Sam Armstrong, piano:
Claire Delbo – L'âme en Bourgeon, I. Dor.
Olivier Messiaen –  Poèmes pour Mi, IX Prière Exauceé
Kaija Saariaho – Quatre Instansts III, Parfum de l'Instant
Kamasi Washington – Shot Out of a Cannon, Song for Fraset
cd Becoming
Jean Philippe Rameau – La Joyeuse, Les Cyclopes, The Art and the Hours
Vikingur Ólafsson, piano
Elmer Schönberger –  CD Hercules Seghers', deel VIII
sopraan Charlotte Riedijk, DoelenEnsemble, dirigent Arie van Beek.
Little Marzan – Vermont
J.S. Bach – Sonate in g klein voor fluit en klavecimbel
Anne-Catherine Bucher, klavecimbel en Leonard Schelb, fluit.
cd  Toucher Bach, label Etcetera.
Willem Jeths – Party at the Palazzo' uit de opera Ritratto.
Live uitgevoerd door De Nationale Opera en Amsterdam Sinfonietta olv. Geoffy Paterson.
Sonny Rollins – Tune up
Sonny Rollins, Ruud Jacobs, Han Bennink.
cd Rollins in Holland, The 1967 Studio & Live Recordings  Website Jazzarchief
Robert Russell Bennett – Cakewalk, Suite of old American Dances
Info CD Channel Classics
J.S. Bach – Bereitet die Wege, bereitet die Bahn, BWV 132
Amsterdam Baroque
Burna Boy – African Giant
K.O. Brass – Levant
Samenstelling: