JazzNotJazz Music & Politics
Music & Politics. Episode #27. THE IMPORTANCE OF BILL WITHERS AND CURTIS MAYFIELD
CLAIM:
What a match, nothing is more inspiring in comparing the music of Bill Withers and the music of Curtis Mayfield.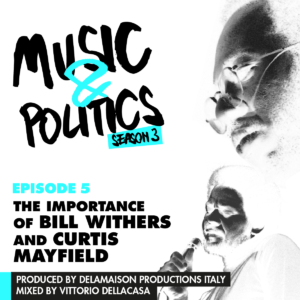 BIll and Curtis, two milestones of american soul music and two contemporary poets with no need of visibility beside their music & lyrics.
Colin Greenwood from Radiohead said during an interview , Bill Withers and Curtis Myfiled those are the people who informed me to play the bass.
What else to say. Nothing.
1) LONELY TOWN, LONELY STREET: BW
2) LOVE TO THE PEOPLE: CM
3) MAKE LOVE TO YOUR MIND: BW
4) GIVE ME YOUR LOVE (LOVE SONG): CM
5) SOMETIMES A SONG: BW
6) HARD TIMES: CM
7) I CAN'T WRITE LEFT HANDED (LIVE): BW
8) BETTER OFF DEAD: BW
9) BILLY JACK: CM
10) RUBY LEE: BW
11) FREDDIE'S DEAD: CM
12) GRANDMA'S HANDS: BW
13) BLUE MONDAY PEOPLE: CM
Samenstelling: