Kraak Helder
Radiofonische producties van Sound-Art studenten van Universitat Politècnica de València, Spanje.
In November 2017 werd er onder leiding van Martijn Comes een workshop gehouden bij de Sound-Art afdeling van de Master in de Visuele Kunst en Multimedia (Máster Artes Visuales y Multimedia, AVM) aan de Universitat Politècnica de València te Spanje.
De workshop omspande een stuk theorie over radiotransmissie in de context  van cultuur en het creatieve proces, en belichtte tevens een stuk historie van radiofonische werken van 1940 tot nu. U kunt vanavond luisteren naar de stukken die tijdens de workshop zijn gemaakt. Daarna kunt u luisteren naar drie stukken die een indruk geven van de huidige Spaanse avant-gardistische radiokunst.
Intro. Delia Derbyshire & Barry Bermange. Falling (excerpt). Dr. Who theme (excerpt).
1. David Bosque, Carles Ferrero & Fabiana Pernisco, "Altavoz, Microfone"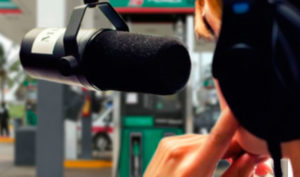 What if for a moment we could turn the speakers of each radio into a microphone? Exercise your imagination and think that you have the ability to tune in to some of these radios and listen through their microphone. What would we listen to? In this piece we have recreated what we would hear if this hypothetical situation became real.
2.  laria Tenconi Malinverno & Rosana González López, "Cosmos"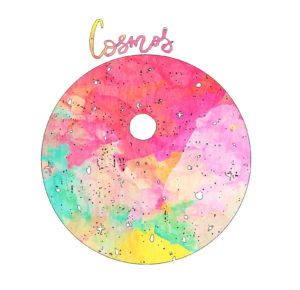 We tried to give some hidden messages through different languages.
We used a "cut-communication" instead of using proper or classical text with a simple narrative. We built our history with different pieces of informations picked from differ- ent places and edited. Also, we recorded our voice in a special way, to try to give at the some pieces a particularly effect.
3.  Ximo Vaello, "Fusteriada"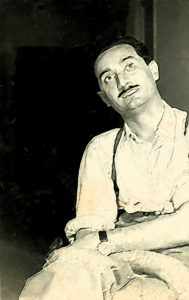 Joan Fuster, has been the most important Valencian intellectual of the 20th century, his political ideas and clarity of speech, guaranteed him a great number of enemies who always tried to silence him until his death, but his texts remain alive and give him new life in the people
In this piece, it has been sought to find equivalences of sounds with different situations and actions to convey the meaning of history. There is no need to explain the different equivalences as they are obvious.
4.   Poli Mujica & Paloma Sagüez, "Hanging out with Siri"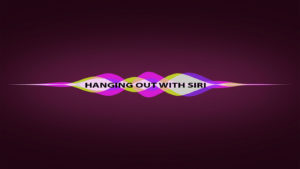 This work consists of an interview that Google Translator does to Siri de Iphone. The questions that we devised are designed to appeal to the "humanity" of Siri.
We are interested in proposing this work for the radio since we are always accustomed to hearing human voices, music or sounds on the radio, the success of the radio lies in that feeling of intimacy that we experience when listening to a human voice in our ears. But, what happens with auditors when listening to robotic voices? Do you trust in the truth of what is being said? Are you comfortable listening to them on the radio?
Technology is advancing by leaps and bounds and it is impressive that an app like Siri, has integrated a way to answer these types of questions. We want auditors to question the hard work that programmers are doing to "humanize" this type of intelligent applications. Do they need to be so "human"?
(This text was translated by Google Translator from Spanish to English)
5.  Misael Samano-Vargas, Miguel Sislian Suez, Marco Toledo, "Cordis Edax Rerum"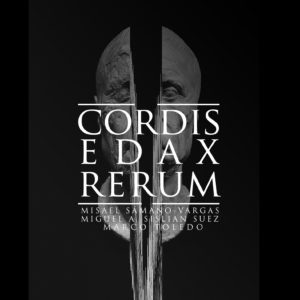 6.  Laila Belkaziz, Sergio Lecuona & Carlos Del Valle,  "3 Slow Scan TV Portraits"



SSTV or Slow Scan TV, is a method of transmission of images used to transmit and receive static images, in black and white or in color through the radio. The concept of SSTV was introduced by Copthorne Macdonald in 1957-58. He have developed the first SSTV system using an electrostatic monitor and a Vidicon tube. During the space race it were used both by the Soviet space program by NASA. It is still used in a residual way by radio amateurs. Recently, in popular culture, it has appeared in video games such as Portal 2 and Kerbal Space Program. It has also been used to transmit pornographic and illegal images in restrictive governments such as the Soviet Union.
7.  Das Lucie, "TV ZAPPING"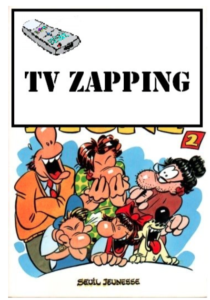 The context of this sound discuss of a old pair, a little vulgar, watching T.V. They are fighting themselves for change chains. This sound play of the « laugh ». It represents the embarrassing moments we live when somebody changes our chain on the TV .
8.  Miguel Molina-Alarcón, "Shoemaker's Radio"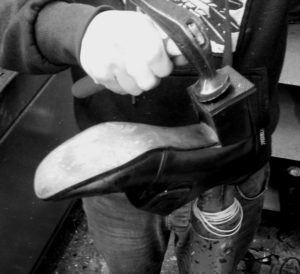 Radio-performance of the text "La radio del zapatero" ('The Shoemaker's Radio', 1934) by Rosa Arciniega (Peruvian writer who lived in Spain in the decade of the thirties), which recalls an experience she had while listening to the relationship rhyming the sounds of a shoemaker's hammer with the voices of the announcers of his radio, in addition to the words he exchanged with his customers and other external sounds of the shoe store. This reminds us of the "shared listening" or "radio community" of the beginnings of radio, of which Salomé Voegelin speaks in his text "A Short History of Radio Listening" (2013). This work has been recorded in a shoe store in Valencia on December 22, 2017 with the occasional sounds produced by the shoemaker David Marín, the speaker of his radio player and the customers who entered the shoe store. Thanks to the Ministry of Economy and Competitiveness of the Government of Spain (project number HAR2014-58869-P).
9.  Elia Torrecilla, "Flânerie aural". Walking looking for silences.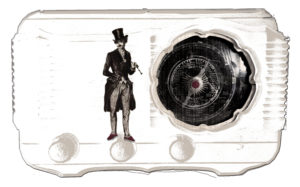 Radio work based on the article "Radio Humor: El que no oía" (Ondas magazine no 184, 1828) by Ramón Gómez de la Serna, which deals with a radio-listening that he didn't hear, and was dedicated to search for silences from the cities (Prague, Rome, Carabanchel…) moving on the dial of his radio. He said "Feeding me with silence … Making a tunnel trip". In the end, a doctor took away his deafness and began to hear all the stations on the radio at the same time. We have interpreted this work as a radio-performance of a supposed radio-flâneur that walks through the silence of different cities, as if he were activating each radio station with his steps… This work is the result of the Project I+D ref. HAR2014-58869-P, funded by Spanish Ministry of Economy and Competitiveness.
10. Paco Sanmartin & Carlos García Miragall, "Lux Interior"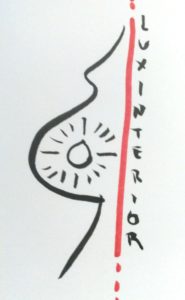 Lux interior is an improvisation of sound and image, is a story, is a radio soap opera … Lux Interior is based on the leader of the cramps group and the way children perceive the outside world when they are in their mother's womb. The narrative structure of the performance is divided into 3 parts: 1) Johnny, a child still in the womb, is quiet listening to her heartbeat and her mother, Mary. 2) Freddy, the child's father is a nurse in a mental hospital, comes home very happy to say that Poisson Ivy to reassembled to The Cramps to make a final tribute to Lux Interior in the clinic. Mary gets very happy. 3) At the concert sounds one of the classic themes of The Cramps Human Fly. We're just going to present a fragment of the second part. This project is the result of the research project of specific code 20170703 and reference GV / 2017/028
With thanks to: Miguel Molina-Alarcón, Elia Torrecilla, Cristina Ghetti, Maria Jose Martinez de Pison Ramon, Moises Mañas and all the wonderful students.
This programme is part of R&D Project (Research and Development) of the Universitat Politècnica de València,  HAR2014-58869-P,
RECOVERY OF PIONEER PRACTICES OF THE ART OF ACTION OF THE HISTORICAL SPANISH AVANT-GARDE AND ITS CONTRIBUTION TO THE HISTORY OF THE EUROPEAN PERFORMANCE (1900-1950)
Samenstelling: