Nuove Musiche
In dit uur komt een nieuwe, bijzondere cd met oude muziek aan bod. Het Hathor Consort olv. gambiste Romina Lischka heeft onlangs haar debuutcd uitgebracht met Lachrimae or Seaven Teares van John Dowland.
John Dowland (1563-1626)
Lachrimae or Seaven Teares (1604):
I. Lachrimae Antiquae
II. Lachrimae Antiquae Novae
III. Lachrimae Gementes
IV. Lachrimae Tristes
V. Lachrimae Coactae
VI. Lachrimae Amantis
VII. Lachrimae Verae
VIII. M. Nicholas Gryffith his Galiard
X. The King of Denmarks Galiard
XI. The Earle of Essex Galiard
XII. Mrs. Nichols Almand
XIII. M. Thomas Collier his Galiard with 2 Trebles
XIV. M. George Whitehead his Almand
XV. M. Bucton his Galiard
XVI. Sir Henry Umptons Funerall
XVII. Captaine Piper his Galiard
XVIII. M. Henry Noel his Galiard
XX. M. John Langtons Pavan
aanvulling: IX. Sir John Souch his Galiard
Hathor Consort olv. Romina Lischka, discantgamba
Label/nummer: Fuga Libera FUG718, 2014
Bekijk hier een trailer.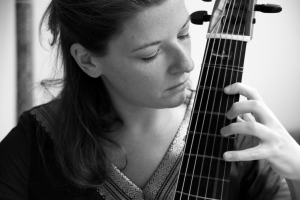 Samenstelling:

Irene Stolp