Radio Monalisa
Vrouwelijke componisten: klassiek, jazz, hedendaags – gekozen en gepresenteerd door Patricia Werner Leanse.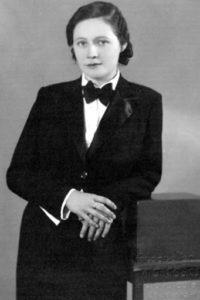 1. Poldowski (Brussel, 1879-1932). À Clymène (1912), art song.
2. Kirstine Lindemann (Denmark, 1987). Further and Back (2020), version for viola, cello and bass recorder.
3. Christine Ott (France, 1963) – from her new album Time to Die (2021): Landscape, Miroirs, Pluie (in various instrumentations).
4. Vítězslava Kaprálová (Czechia,1915-1940) [zie foto]. Piano Concerto (1935).
5. Judith Shatin (Virginia,1949). a. For the Fallen (2017). b. Penelope's Song (2007) in the versions for amplified flute and electronics.
Samenstelling & presentatie:

Patricia Werner Leanse