The Sound of Movies
In de reeks Jazz in de Film, aflevering 313: Brigitte Bardot (2).
1. Et Dieu….. Créa la Femme (1956), verteld door Brigitte Bardot.
Componist: Paul Misraki.
2. Diverse composities uit Brigitte Bardot-films, gearrangeerd door
Pete Rugolo in 1960.
Componist: Paul Misraki.
Gloria Wood, zang. Pete Rugolo and his Orchestra.
3. Vier thema's uit 'La Bride sur le Cou' (1961).
Componist: John Campbell.
John Campbell, gitaar. Arvanitas Quintet. Les Aymara.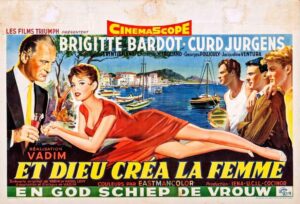 Samenstelling:
Kees Hogenbirk