Concertzender Actueel
Wekelijkse actualiteiten, met CD van de week, de concertagenda en interviews met gasten. Presentatie Pauline Verburg
Interview
---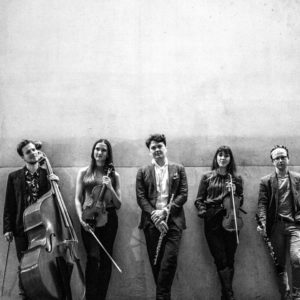 Vandaag een interview met het Edson Ensemble (studenten van het Conservatorium van Amsterdam) en ze spelen live in de studio.
Het ensemble bestaat uit:
Remi J. Edson, fluit. Ula Kamile, viool. Audinga Musteikyte, altviool. Anton Jakimenko, klarinet en Gediminas Stepanavicius, contrabas
meer info
---
Johannette Zomer presenteert rond Internationale Vrouwendag 'Tranen van Maria', een multidisciplinaire voorstelling door en voor vrouwen uit diverse culturen en met verschillende achtergronden.
Johanette is in de studio om te vertellen over dit project.
4 maart 2020 Kampen, Stadsgehoorzaal, 20.00 uur
6 maart 2020 Leiden, Hooglandsekerk, 20.00 uur
7 maart 2020 Amsterdam, Dominicuskerk, 20.00 uur
8 maart 2020 Groningen, Oosterpoort, 15.00 uur.
De basis voor deze voorstelling is het Stabat mater van Pergolesi, maar er klinkt nog veel meer.
meer info
Pergolesi – Stabat Mater
Emmy Kirkby, James Bowman, Academy of Ancient Music olv. Christoffer Hogwood
---
Caroline Bakker, directeur Festival Dag in de Branding, over het komende 55e festival dat aanstaand weekend plaatsvindt in Den Haag.
meer info
---
CD van de week
---
Titel: A Schubertiade with Arpeggione
Componist: Franz Schubert
Artiest: Guido Balestracci/L'Amoroso
[EAN5400439004092]
meer info

Schubert – Arpeggione-sonate, allegretto
Maude Gratton, Fortepiano. Guido Balestracci, Arpeggione
---
De musea
---
Hermitage Amsterdam, tentoonstelling 'Juwelen!' .
De tentoonstelling laat een van de grootste schatten van de Hermitage St.-Petersburg zien. Een fabelachtige collectie juwelen met bij elkaar tienduizenden edelstenen, gedragen door de Romanovs en de Russische high society.
---
Playlist
---
Traditional – Hava Nagila
Rusanovsky trio
---
Elliot Galvin – Broken Windows
---
Jasper Høiby Planet B – We didn't Earn The Sun
---
Brahms – 'Wie lieblich sind deine Wohnungen' uit 'Ein Deutsches Requiem' op.48
Philip Moll en Philip Mayers, piano. Rundfunkchor Berlin olv. Simon Halsey
---
Silvius Leopold Weiss – Suite nr 1 in F , derde deel: courante
Alex McCartney
---
Charles Gounod –  'Ah je ris de me voir si belle', Aria uit Faust
Renee Fleming, The English Chamber Orchestra olv. Jeffrey Tate
---
Anna Thorvaldsdottir – In the light of air nr. 3 Existance
---
Naima
Children Song nr. 3
Dear Baloo
Edson Ensemble
---
Couperin – Suite en ré mineur: Allemande
Laurent Stewart
---
Philip Glass – Mishima, Movements III and IV from quartet nr.3
Cojunto Iberico olv. Elias Arizcuren
---
Daniel Herskedal – The Lighthouse
Daniel Herskedal en zijn band
---
Erkan Oğur – Elif'e Ninni
---
Samenstelling: