Nuove Musiche
In deze aflevering twee recent verschenen CD's met Kerstrepertoire uit de middeleeuwen en de renaissance: "Hodie Christus natus est – A medieval Christmas" van The Boston Camerata en "An Elizabethan Christmas" van Fretwork.
Op de eerste CD biedt The Boston Camerata een beeld van de variatie aan thema's en stijlen in de kerstmuziek van het middeleeuwse Europa. De meeste stukken zijn afkomstig uit Aquitanië en uit Engeland.
De tweede CD bevat muziek uit Engeland, gecomponeerd tijdens het bewind van Elizabeth I. Daarin staat William Byrd centraal, die een aantal liederen voor zangstem en gambaconsort, zogenaamde consortsongs, componeerde. Deze worden afgewisseld met instrumentale muziek van tijdgenoten, vooral Anthony Holborne.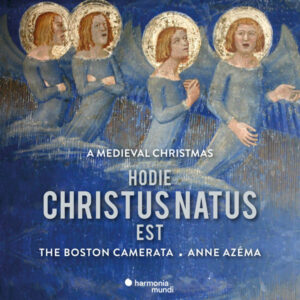 gregoriaans
1. Hodie Christus natus est
anoniem
2. Uterus hodie Virginis floruit
3. Adest Sponsus
4. Oiet Virgines
5. Nos virgines
6. Amen dico
7. Veine pleine de duçur
8. Edi be thu hevene quene
9. Por nos virgen madre
10. Gregis pastor
The Boston Camerata olv. Anne Azéma
(cd: "Hodie Christus natus est – A medieval Christmas" – Harmonia mundi HMM 905339, 2021)
William Byrd (1543-1623)
11. Out of the Orient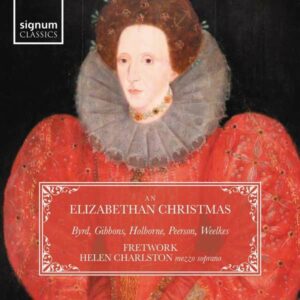 Anthony Holborne (1545-1602)
12. Pavan
13. As it fell on Holie Eve
William Byrd
14. From virgin's womb
Martin Peerson (1571-1650)
15. Upon my lap my sovereign sits
Anthony Holborne
16. Lullabie
anoniem
17. Sweet was the song the virgin sang
Helen Charlston, mezzosopraan. Fretwork met: Emma Walshe, Lucy Cox, sopraan. Amy Liddon, alt. Malachy Frame, bariton. Edmund Saddington, bas-bariton
(cd: "An Elizabethan Christmas" – Signum Classics SIGCD 680, 2021)
aanvulling:
Anthony Holborne
18. The Cradle
Fretwork
(cd: zie 11-17)
Samenstelling: